— H E L L O  F R I E N D ! —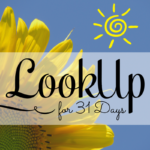 Welcome to the Look Up for 31 Days series! Exploring treasures in biblical look up sometimes encounters. I'll be adding a link to each day as it goes live.
Day 2 – It All Starts with a Promise
Day 10 – Pointing to Tremendous Grace
Day 11 – What Goes Up, Goes Down First
Day 13 – Seeing After Wrestling
Day 14 – Turn Your Eyes Upon Jesus
Day 15 – When Life is Crazy & You Wonder How it Will All Turn Out
Day 16 – When You Feel Like a Failure
Day 17 – Pain is a Crazy Shepherd
Day 18 – An Alternative to Jealousy
Day 20 – When There's Nowhere to Go
Day 21 – Who's Really in Control?
Day 22 – Look & Live: The Ugly Truth Sets Us Free
Day 23 – Doing Things Differently
Day 26 – When This Little Light of Mine Doesn't Feel Like Enough
Day 27 – The Solid Rock Invites a Stone Toss
Day 28 – When You Need Some Serious Life-Giving Power
Day 29 – The Best is Yet to Come
Day 30 – Love Jesus & Get Stoned
Day 31 – Don't Give Up — Look Up
If you're interested in other 31 Days series, written by different writers, check out the plethora of topics including: inspiration & faith, family life, fashion & beauty, simplicity and organizing, house & home, too awesome to categorize, and more.