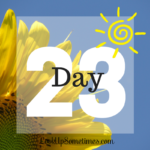 If you are just joining me, welcome! You can find an explanation of this series here: Day 1 – Introduction.
Now when Joshua was near Jericho, he looked up and saw a man standing in front of him with a drawn sword in his hand… "As commander of the army of the LORD I have now come." Then Joshua fell facedown to the ground in reverence, and asked him, "What message does my Lord have for his servant?" Joshua 5:13-14
Story: Joshua 5:13 – Joshua 6
Can you think of a time when doing what was right meant doing things differently than those around you? (I'd love to hear your story in the comments!)
I can too. Shortly after Paul and I were engaged, we made a commitment not to touch each other – not even hold hands – until we were married.
Those were five long months.
The temptation to buckle under pressure, for me, was strongest at the photo shoot for our engagement pictures. I didn't want to compromise my conscience, but I didn't want the photographer to think we were crazy either. Paul didn't care what she thought and plunged into a brief explanation of the type of photo shoot we wanted. (That's why he's my hero; any man that brings out the best in a woman is easy to respect!) The photographer tried to conceal her shock, but with the explanation out of the way, I rode so high on a clear conscience I didn't care what she thought, either.
The reason we'd made this commitment in the first place was I felt God calling me to a high level of purity — one I had failed to uphold in the past. I knew the sting of defeat; I wanted to feel the thrill of victory.
God wants his people to feel the thrill of victory.
I was keenly aware, from personal experience, that victory is dependent on obedience to God. He only blesses his plan. But that level of obedience? I wasn't capable of it in the past; I had tried. What made me think I could do it now?
Obedience to God requires faith in God that he will empower us to do what we aren't capable of – love and obey him.
God faithfully brought us through those trying months. And I can vouch for God's faithfulness between "I do" and "I still do," nearly thirteen years, two kids, and a storm or two later.
Doing things differently isn't easy. That's why I think the stories I heard growing up about Joshua and the battle of Jericho don't do it justice. There's an internal agony that rages a whole battle of its own when you venture out into the unconventional.
Someone who knows more about ancient history can tell me, but the Lord's battle plan to Joshua seems a tad unconventional. Who ever heard of an army marching around a city blowing horns and then going home for the day? And then coming back for a repeat performance the second day. Six days in a row? The soldiers didn't even go first in the procession – seven priests with the ark of the covenant led the way. What country's military commanders would endorse that? Wouldn't they be a laughingstock on the evening news? If you're familiar with Veggie Tales, the tune "Keep Walking" may come to mind. (You can google it later if you're curious.)
It was a test: would Joshua obey each day for a week, or get impatient and try to capture what he wanted his own way? Would he put God first in the procession? Wouldn't it at least look better to have the strongest go first instead of the priests? Would he care more how he appeared while obeying, or would he obey because he knew he would appear before God? What if he obeyed six out of seven days then buckled under the pressure from the talk he heard from the barracks that night? "Let's elect a new leader. That Joshua only has one oar in the water."
The seventh day was the last test. They did their marching seven times this day, bellowed a war cry, and God tore down the wall around the city. Jericho was toast. The Israelites experienced the thrill of victory, because they did things God's way.
What walls in your life need tearing down? Are you ok with unconventional if that's how God leads?