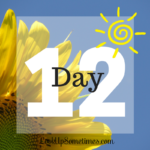 If you are just joining me, welcome! You can find an explanation of this series here: Day 1 – Introduction.
In breeding season I once had a dream in which I looked up and saw that the male goats mating with the flock were streaked, speckled or spotted. The angel of God said to me in the dream, "Jacob." I answered, "Here I am." And he said, "Look up and see that all the male goats mating with the flock are streaked, speckled or spotted, for I have seen all that Laban has been doing to you." Genesis 31:10-12
Story: Genesis 31:1-16
Are you thinking what I first thought? WHY are we talking about mating goats?! Like, maybe, I'm a teensy bit afraid —
Don't be scared.
The short answer is injustice in the workplace. But the longer answer is worth looking at for a fuller flavor of context. But I gotta warn you: It's a soap opera.
Remember Isaac? He and Rebekah have twins: Esau and Jacob. Jacob's the youngest and not supposed to inherit the blessing when Dad dies. But Rebekah urges Jacob to disguise himself and steal it from his blind, dying father. Trick-or-treat!
Actually, it was God's plan all along to bless Jacob. (Why ask when you can steal, right?) Esau's predictably furious and plots to kill his twin. Rebekah says she'll commit suicide if Jacob marries anyone outside her family. Convenient. So Isaac sends Jacob with his blessing to Rebekah's homeland to find a wife. You know, until Mom sends word it's safe to come home.
It gets more complicated.
Jacob works for Rebekah's brother, Laban, tending goats. Uncle Laban has two daughters; one's hot — Rachel. One's not — Leah. Jacob falls in love with Rachel, and Laban says work 7 years and you can marry her. On the day after the wedding night, Jacob wakes up next to Leah.
I told you it's a soap opera.
He ends up marrying Rachel, also, a week or something later, but has to work seven more years to pay for her. Talk about bad family dynamics.
I don't know, and don't care, about the details of mating goats, but apparently Laban always wanted whichever of the herds was doing better in the short term. (Maybe? Correct me if I'm wrong here.) Whatever Laban's problem, he decides to change Jacob's wages 10x in the span of twenty years. The tone of the text makes it clear Jacob wasn't getting a raise. Lovely.
So that's the context. Greed, deceit, thievery, failure, murder plot, wife swap, injustice, drama, etc.   Then God tells Jacob that he's seen what all Laban's done, enough's enough – time to pack up and go home. So Jacob tells his wives they're leaving. And because his wives' brothers were bad-mouthing Jacob all over the place, accusing Jacob of stealing Laban's wealth, maybe this is why Jacob tells his wives his dream. Setting the story straight, but just with those who need to know.
Jacob explains that God appeared in a dream and tells him to look up and see that the scrawny leftovers that Laban had assigned him for wages? God was going to multiply into wealth. Though Laban was consistently unjust, God protected Jacob. God blessed Jacob for his diligence and integrity – the original villain in the story is recreated into a hero.
God still sees and cares today when we are mistreated. He can take what scrawny lot we've been dealt in life and bless our socks off anyway. Regardless what others do, God has the final say. And starting out as a villain? Or realizing somewhere along the way I've turned into one? Doesn't hinder God's plan. He can recreate me – maybe even into a hero.