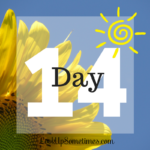 If you are just joining me, welcome! You can find an explanation of this series here: Day 1 – Introduction.
Hello Friend!
The last post hinted at a hymn that has great lyrics to mediate on. So it seems fitting to include them. But there are actually three things for you in this post:
Free Giveaway by DaySpring (for being so patient with all these daily posts!)
Song lyrics to meditate on
Beautiful modern rendition of the hymn by Nichole Nordeman
*****GIVEAWAY*****
To celebrate Write 31 Days and all of the participants, DaySpring is hosting a giveaway from now until October 28 for our wonderful readers! One winner will receive $100 gift card from DaySpring!
ENTER FREE GIVEAWAY
(Scroll down to Preview the Giveaway and follow instructions for submitting entries.)
---
While the song was written in the early 1900s, the truths haven't changed.
Turn Your Eyes Upon Jesus
by Helen Howarth Lemmel
O soul, are you weary and troubled?
No light in the darkness you see?
There's a light for a look at the Savior,
And life more abundant and free!
Turn your eyes upon Jesus,
Look full in His wonderful face,
And the things of earth will grow strangely dim,
In the light of His glory and grace.
Through death into life everlasting
He passed, and we follow Him there;
Over us sin no more hath dominion—
For more than conquerors we are!
His Word shall not fail you—He promised;
Believe Him, and all will be well:
Then go to a world that is dying,
His perfect salvation to tell!
---
Nichole Nordeman created a song that incorporates part of the hymn in a beautiful modern rendition. Praying you are blessed as you look up sometimes!