If you are just joining me, welcome! You can find an explanation of this series here: Day 1 – Introduction.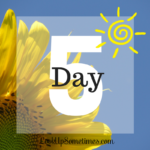 Hello Friend,
Today I'm filling my mom shoes and spending time with my 6-year-old daughter. An unplanned trip to the doctor meant taking her out for lunch (take-out) and play time with Mommy (shortly).
In the spirit of physically looking up and not missing out on the important people God has gifted us with, I'm sharing a video I saw on YouTube. You may have seen it. I'm occasionally guilty in getting sucked into electronics so it hit me personally.
BUT — !
My hope is that you will NOT feel guilty but instead be encouraged at all the opportunities to physically look up and enjoy the moment. To enjoy the gorgeous sunrise or sunset — every day they're different, I told my kids this morning on the way to school. To enjoy the people God puts in our lives. So many joys await!
The unplanned trip to the doctor was God's perfect plan for us today. I am asking God to dearly bless you, my friend, and to recognize the blessings for what they are. With that — back to my daughter.
Looking up sometimes,
Pearl