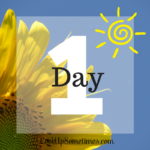 Hello dear Friend,
Welcome to this series "Look Up for 31 Days." This series is in response to a challenge called Write 31 Days.
Write 31 Days is where crazy people commit to blogging every day for the month of October on one topic. (Don't worry — in November we'll be back to weekly posts unless your feedback is so amazing it directs otherwise.)
The 31 Days Series page is devoted to this series so all thirty-one posts will be available anytime you want to reread or share with a friend. I'll also be posting snippets on facebook so come on over and join me there!
This series will focus on exploring treasures from biblical "Look Up Sometimes" encounters with God. I've done a little study already, and I'm seriously excited! To whet your appetite, I'll tell you this: It all starts with a promise!
Each day, Lord willing, you will find daily encouragement through thoughts, verses, a song or anything else that pertains to the idea of a biblical look up sometimes encounter. We'll meet a bunch of characters, and oh! I can't wait to tell you this — SO interesting: All the patriarchs had a look up sometimes encounter! (Ok, am I the only one that gets excited about these things?)
I admit, I'm also kinda petrified. Hitting "publish" on any post I have not memorized frontwards and backwards and edited extensively, kinda, well, you know — petrifies me! What if I thought there was something amazing to share and there isn't? What if, in the fast pace of it all, I fail to communicate well? But what if God enters the scene and does something amazing in you and me?
Hang onto that last question, because that's what I'm hanging onto, too! This challenge is also about breaking fear barriers.
You have been prayed for, dear friend! May these God-initiated look up encounters meet you and me where we're at and cause us to glimpse and embrace His grace even more.
You are a treasure to God's heart and mine.
Looking up sometimes,
Pearl