The irony is not lost on me: dropping off the face of the earth midstream through a series is NOT a conventional example of excellence. August was the last time you heard from me, and April was the last time we explored this anxiety-busting series that I'm calling "Yeah, Whatever" from Philippians 4:8.
We have considered the words true, noble, right, pure, lovely, and admirable so far. (Click the bolded words to read those posts.) But in a post extrapolating on excellence, why you should you listen to someone who appears to have very un-excellently dropped the ball?
I'll explain and let you decide. But first, let's make sure we're on the same page.
"Finally, brothers and sisters, whatever is true, whatever is noble, whatever is right, whatever is pure, whatever is lovely, whatever is admirable—if anything is excellent or praiseworthy—think about such things."

Philippians 4:8 (NIV)
Why & What's In It for Me?
The premise for this series is that it's dandy to memorize a verse, but it's light years better to understand what we're memorizing and allow it to change us, even if minutely. But how can we do that when we're talking abstractly? Whatever is true – what is truth? Whatever is lovely – who's defining beauty? Whatever is noble – aren't nobles and knights medieval history? If we can't define terms and firmly grip concrete examples, how exactly are we helped?
I propose that as we invest ourselves into digging the treasure out of God's words – specifically each of the words listed for us in Philippians 4:8 – our anxiety levels will decrease.
How Exactly Does that Work?
If God is the embodiment of love, joy, peace, patience, kindness, goodness, gentleness, faithfulness and self-control (just to name a few) and if His words reveal His heart, then there's a high probability we'll glimpse God's heart in each of the words in Philippians 4:8 if we're looking for it. And if God's character is more clearly revealed to us, we're presented the opportunity for deeper worship. If we choose to participate in this adoration, the mingling of a surrendered human heart with Divine Holiness, our stress loses its edge and our sensibilities are reordered. Stress loses an "s" and "st" moves to the end = Rest.
The Disclaimer
I want to be careful though not to give the impression that increased faith equals the healing of everything and all anxieties dissipating before our eyes. Sometimes doing life afraid is victory simply because we're still living it. I realize some anxieties stem from physical causes. I am not a medical professional, and this is not intended to diagnose or treat you. Please seek whatever kind of help you may need.
But who doesn't want decreased stress?
No Objections?
The quality of being outstanding or extremely good – that's how Google defines excellence.
Two Excellent Ideas
My pastor, Ron Hayes, recently preached a sermon in which he said that God does not just save us so that we can enjoy eternity outside of hell. God saves us in order that we will bring Him glory by proclaiming His excellencies. He made the point that our salvation is less about us than we might think, but that we reap the benefits.
About the same time, I listened to a book on Audible called Teaching from Rest by Sarah Mackenzie in which she says, don't worry about producing excellence. Rather, live excellently.
Those two ideas, combined, are sculpting my understanding of excellence. I don't need to worry about producing excellence so much as I need to be concerned with proclaiming it. My responsibility is to live excellently.
Living Excellently
Living excellently means my focus is on following Jesus, not fulfilling rules. It means His glory is my priority. It means I'm not just concerned about doing things God's way but also in His timing. It means accepting the grace God gives me daily. It means being about His agenda, not my own, but realizing that sometimes they may coincide and it's absolutely ok to enjoy the good works He's prepared in advance for me to do.
It means trusting that He withholds no good from him whose walk is blameless and reminding myself of this a hundred times a day when I'd rather insist on whatever pettiness I'm stubbornly clinging to. Living excellently frees me from the pressures of needing to churn out perfect results and it frees me from a churning stomach when I don't measure up. The focus of living excellently is always on His Excellence, Jesus.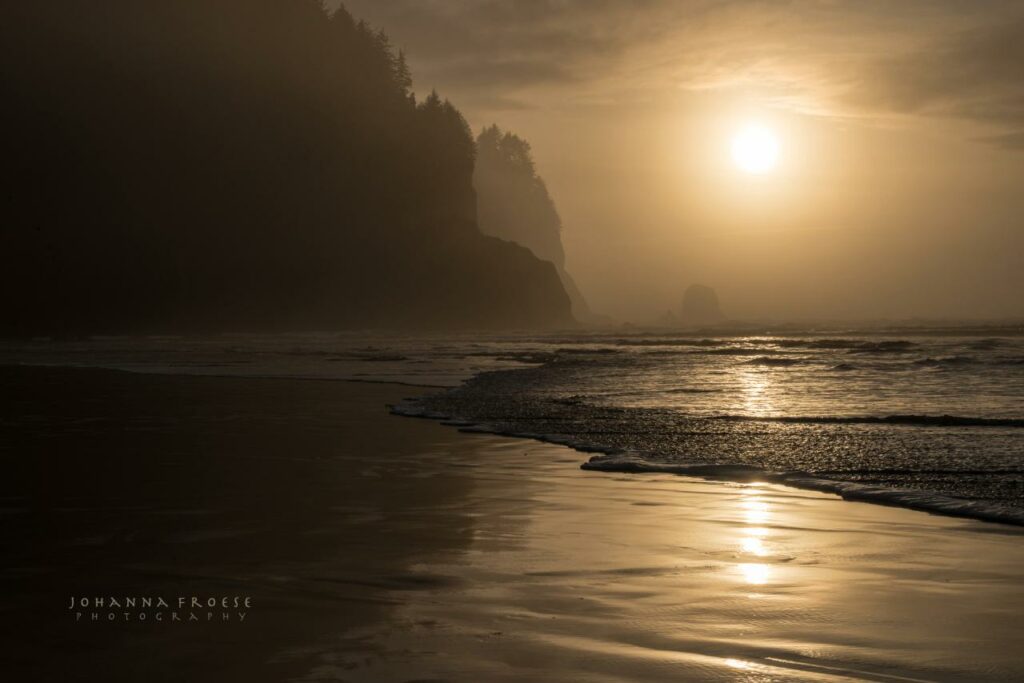 Excellent Timing
Excellence takes time. I mean this in two ways. First that anything of high quality generally takes longer to create. But secondly, that His Excellence takes His time. God has a timetable running right on schedule. His schedule. While that may be frustrating, it can also lend comfort because we are not in charge of the completion of our salvation or anyone else's – He is. "…being confident of this that He who began a good work in you will carry it on to completion until the day of Christ Jesus." Philippians 1:6 (NIV)
Our job is to live excellently, knowing our day to account to His excellence is coming.
The Explanation
That's it? It took me seven months just to tell you that living excellently means proclaiming His excellencies? I couldn't have just told you this months ago?
No. Actually, I couldn't. I hadn't heard that sermon. I hadn't listened to that book. I hadn't processed those ideas. Sometimes simple life-changing lessons are the results of months or years in the making.
My philosophy is only to share what's helpful and encouraging. There's plenty of junk circulating but my hope is not to add to it. Time and energy are precious limited resources God's given us each to steward.
Another part of my explanation for the seeming tardiness of this post is that I've been healing from Lyme disease. Thankfully, I'm infection-free at this time and my body is in the healing process now. After years of living with Lyme disease, I have a new appreciation for increased energy and sense a renewed responsibility to use it well.
As part of that conviction, my husband and I decided to homeschool our kids for the first time this past fall. Besides the learning curve, teaching has been an all-consuming profession! I ran across a quote, "Teaching is the art of being imitated." If we're going to be imitated anyway (and who isn't in some form or fashion?), we may as well make it worth their while by learning to live excellently!
Side Note
Excellence may not look the way others want it to look in your life. It may mean upsetting others' agendas for you as you seek to pursue His. That's ok. That's between them and God. But you following hard after Him is between you and God.
A Problem with Excellence
One unsettling fact about excellence that cannot be sidestepped is that in order to get there we generally have to be willing to make massive mistakes and wade through swamps of messy life. How can that possibly be excellent? Practicing on people in any profession – teaching, nursing, ministry, etc.  – comes with permanent consequences. There is no "undo" button. If we have any awareness of our actions' consequences and any sensitivity for those impacted, how can we accept the somber responsibility we each carry without despairing and wishing we could hibernate through certain seasons of life?
We can be ok with practicing excellence even though we will inevitably flail and fail because His Excellence, Jesus Christ, has already accomplished perfection and offers it to us daily if we'll accept it.
This acceptance of Christ's perfection unfortunately does not do away with the mess of this life. But what it does do is transcends it. And ultimately transforms it.
A Possibly Ridiculous Example
This might be a ridiculous example but humor me: I was playing Candy Crush today (a seldom occurrence for the record). One level was labeled "nightmarishly hard" but I didn't notice any difference from any other level I'd played. All the extra helps that seem to come from nowhere that helped me pass all the other levels continued to help me pass this "hard" level, too. Occasionally, I'd reach a level where no extra help was given and I'd be stuck on it for a few tries. But then, not because I'd done anything different, all of a sudden I'd be able to pass it and move on.
Isn't that what Christ does for us? He makes it clear that we're pathetic on our own (and we're all too keenly aware of it) but somehow helps come "out of nowhere" and that relationship continues to grow, that challenge is difficult but surmountable, and we continue to experience God's grace upholding us in a quiet, daily miracle.
A Beautiful Side Effect
One of the beautiful side effects of practicing living excellently is an increasing realization that God's not viewing me with wrath anymore. Excellence has already been accomplished on my behalf. Now I have the privilege to work with Him to accomplish excellence on His behalf. Meaning, I get to proclaim His excellencies.
Drop the Vernacular
What does "proclaiming His excellencies" mean in plain English? Simply sharing with someone how amazing God is and what He's done for me. Maybe it involves words. Maybe not. What outstanding quality or feature about God have I observed lately? Or am I clinging to in this season in life? Or am I wrestling with?
If it's helpful, I've designed a notecard for you to jot your own thoughts about excellence.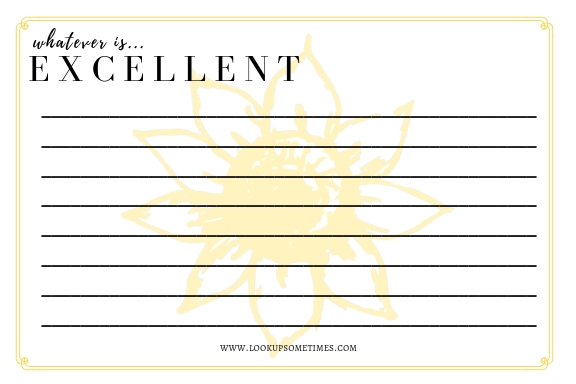 The beauty of all this is that we don't have to manufacture excellence – merely proclaim His. Living excellently means proclaiming His excellencies.
May you be upheld as you keep looking up!