It's been baffling to know what to share with you. I've started and discarded at least four drafts. I realize that we are each uniquely impacted by the craziness our planet is currently enduring. So I have said nothing.
But I don't think silence is right. Especially while we're isolated and social-distancing, it seems more important than ever to reach out to each other.
Where are the words that will somehow be appropriate for all this?
It seemed insensitive, at first, to write about "praiseworthy" – which is the last word in the series of Philippians 4:8. I've dubbed it the Yeah, Whatever series somewhat jokingly. But as I consider our situations, I think focusing on "whatever is praiseworthy" is actually incredibly fitting.
It's been awhile since you've heard from me so to refresh your memory, we are focused on Philippians 4:8 and discussing each of the words – true, noble, right, pure, lovely, admirable, excellent – and now praiseworthy – for the purpose of ultimately lowering our anxiety. (Click on the links to see previous posts.)
But maybe I got the cart before the horse just a tiny bit. If we back up and read the text in context, it reads:
Do not be anxious about anything, but in every situation, by prayer and petition, with thanksgiving, present your requests to God. And the peace of God, which transcends all understanding, will guard your hearts and your minds in Christ Jesus. Finally, brothers and sisters, whatever is true, whatever is noble, whatever is right, whatever is pure, whatever is lovely, whatever is admirable—if anything is excellent or praiseworthy—think about such things.

Philippians 4:6-8 (NIV)
These are part of the closing remarks of Paul's letter to the Philippians, but before he tells them to saturate their minds with these good things he addresses anxiety first. Why that order?
I'm no gardener but I know before I plant I have to pull the weeds to make room for the flowers. And I can't just pull the weeds and let the space lay fallow. Otherwise the weeds come back for revenge. I have to both pull the weed of anxiety and then plant the seeds of truth, nobleness, rightness, purity, etc.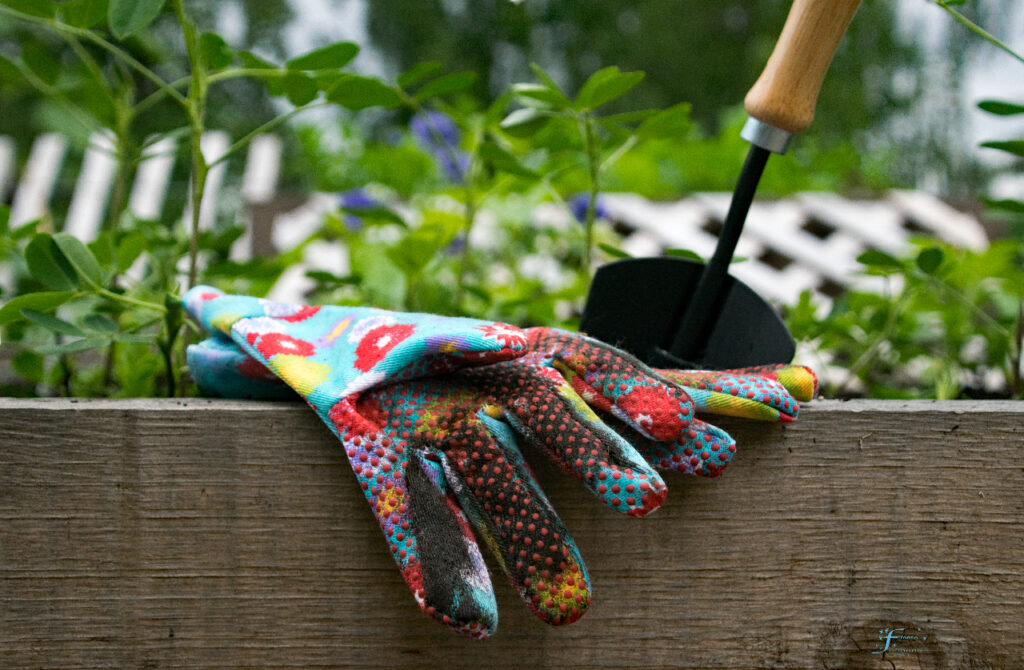 Maybe that's why I get irritated when I witness people callously throwing Bible verses like grenades at those battling anxiety. First we battle the weeds, then we cultivate the seeds.
If you're not in the "planting" season yet, please let me know how I can pray for you. I know both sides of the equation – battling anxieties and resting in God's peace. Sometimes I experience them all the same day. I've been so blessed by a group of women who meet weekly online to pray for each other. Sharing our burdens might not take them away, but it makes them easier to carry by redistributing the weight on more shoulders.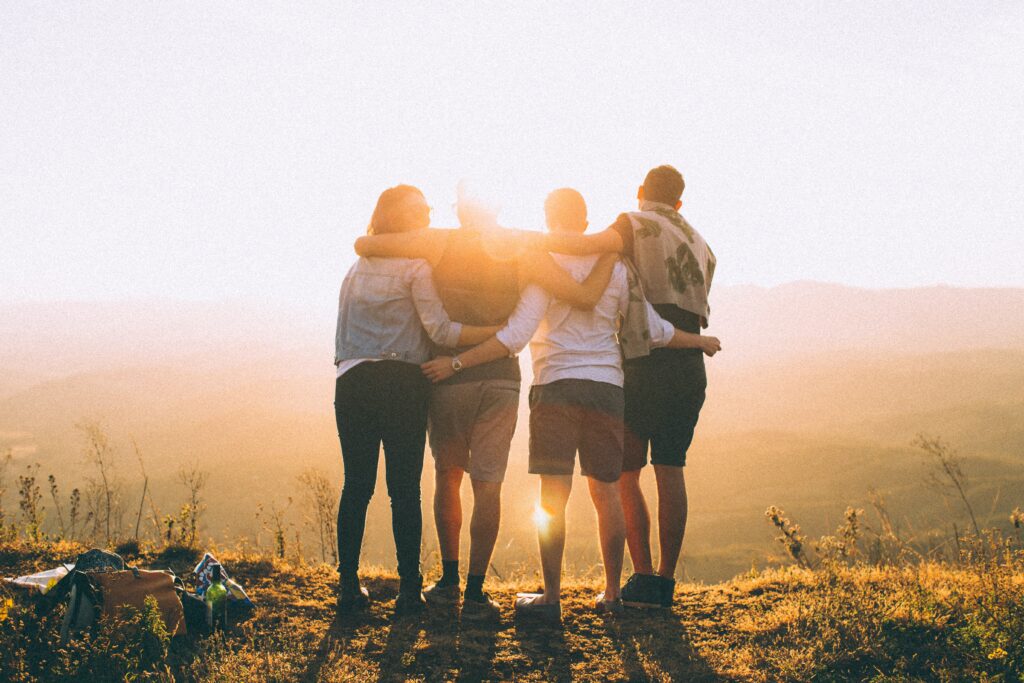 A few days ago I found an Amazon package on my doorstep that I didn't order. I discovered it was from one of these precious prayer sisters! I had shared with the group that I was mostly doing good – my husband is working longer hours and will take a mandated unpaid vacation soon but we're doing fine and our kids are already being homeschooled this year so I'm thankful we're already set up for that – but for whatever reason I'd hit a rough patch battling depression a few weeks before Easter. I knew I wasn't unique that way and my issues seemed small in the grander scale. But I had also shared that I'd had a breakthrough creating art (possibly another post to come – stay tuned) and I'd asked for prayer that the depression would not return.
Inside the package was a sketchbook. I almost cried I was so encouraged by the kindness God showed through this precious sister in Christ encouraging me to continue creating art. You can bet I was praising God for this generously thoughtful surprise!
I'm realizing that the question is not, "Will God provide for His people?" but more "What will God's provision look like and how will I receive it?"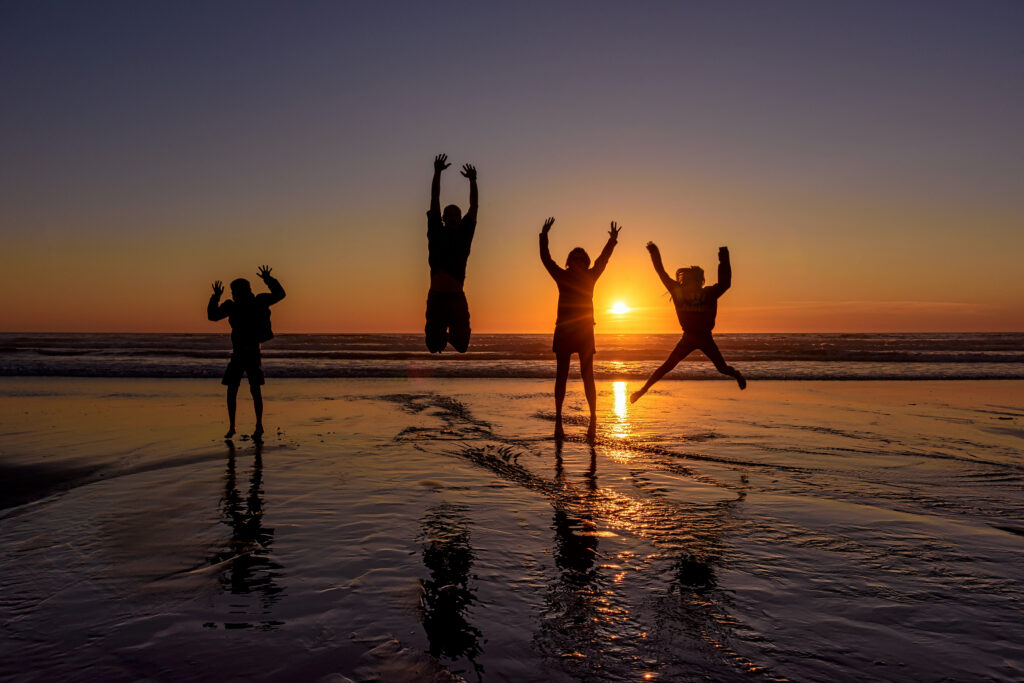 Do you love the story in 2 Chronicles 20 as much as I do? I highly recommend reading it when you get the chance. It is a relevant example of God's people facing a national crisis, experiencing anxiety, and handling it in an unconventional way. (And Philippians 4:6-8 wasn't even written yet!)
Jehoshaphat, the ruler of Israel, is informed a massive army approaches, intent on decimating his nation. The attack is unwarranted and he's unprepared. Cue the anxiety. He resolves to seek God's help and commands the nation to fast with him. People from all over the country respond. Jehoshaphat recounts God's power and past faithfulness and prays for deliverance in an eloquent prayer that ends with, "For we have no power to face this vast army that is attacking us. We do not know what to do, but our eyes are on you."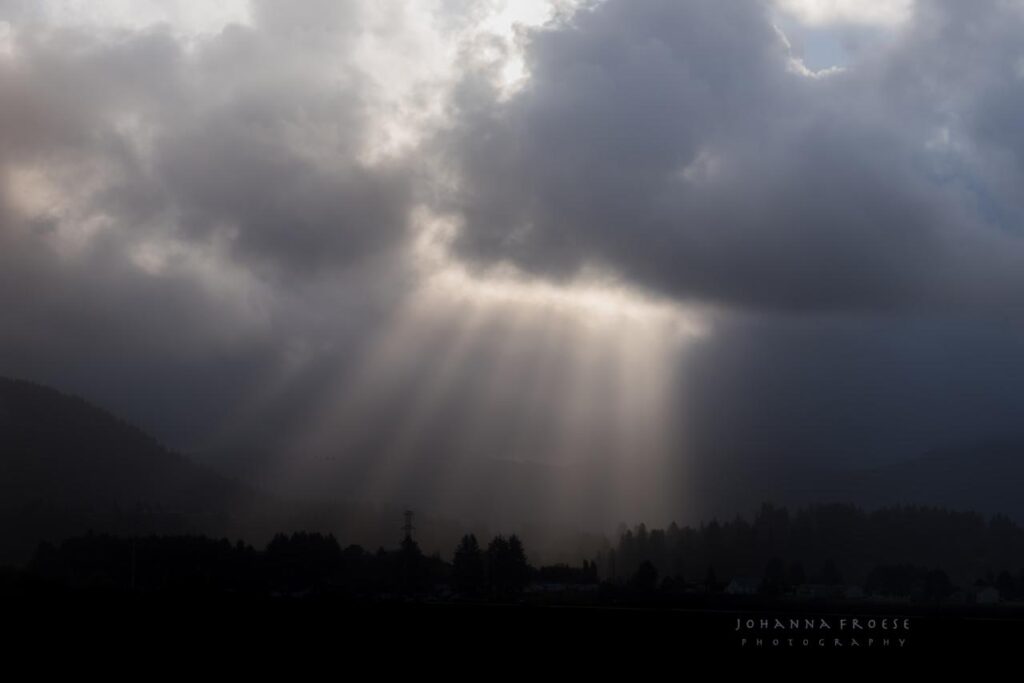 Don't you love how they immediately look up sometimes?
God tells Israel they won't have to fight this battle. He's going to do it for them. He both starts and ends His message with telling them not to be afraid or discouraged. "'Take up your positions; stand firm and see the deliverance the Lord will give you. Do not be afraid; do not be discouraged. Go out to face them tomorrow, and the Lord will be with you.'"
The people responded with worship. And the next morning "Jehoshaphat appointed men to sing to the Lord and to praise him for the splendor of his holiness as they went out at the head of the army, saying: 'Give thanks to the Lord, for his love endures forever.'"
This was not a conventional time to bust out a rendition of "Jesus Loves Me"! While the entire nation is at risk, the dude in charge is shuttling the baritones and tenors, with their music folders, ahead of the swordsmen? Now there's a laughable war tactic!
But they believed God so they praised Him – in advance. Praise was their battle cry.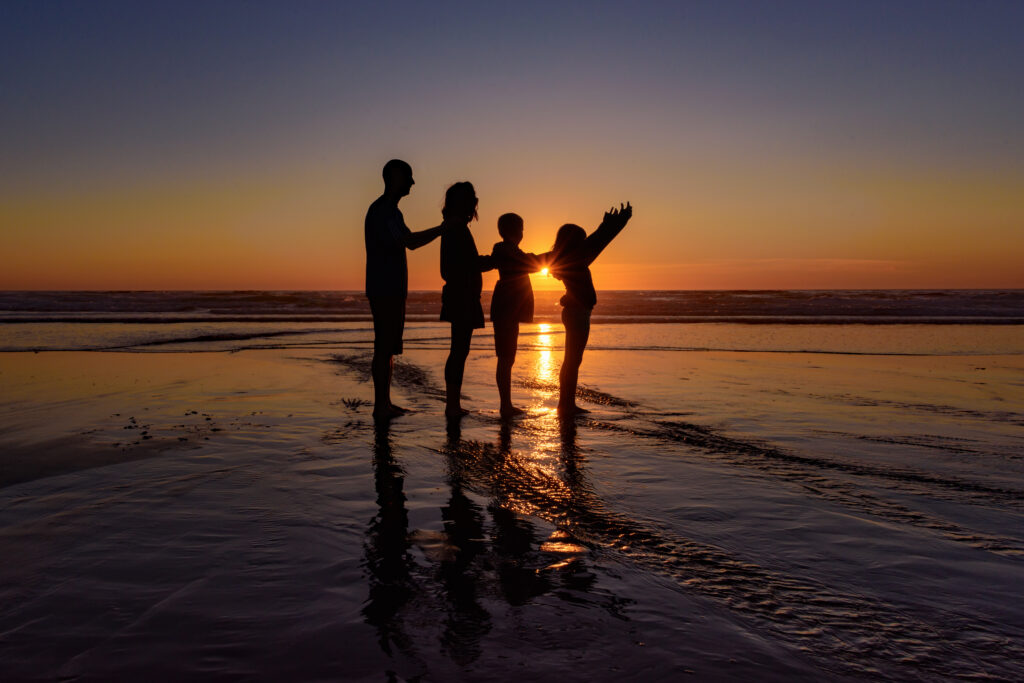 This part just grips me: "As they began to sing and praise, the Lord set ambushes against the men of Ammon and Moab and Mount Seir who were invading Judah, and they were defeated." (emphasis added)
When the Israelites reached the point that they could view for themselves the massive enemy horde (and those tenors and baritones were the first to see it), they witnessed the aftermath of a war already fought and won. The Lord arranged a complete victory entirely aside from Israel's efforts. Israel's only participation was in carrying off the plunder which took 3 days! And on the fourth day they assembled to praise God.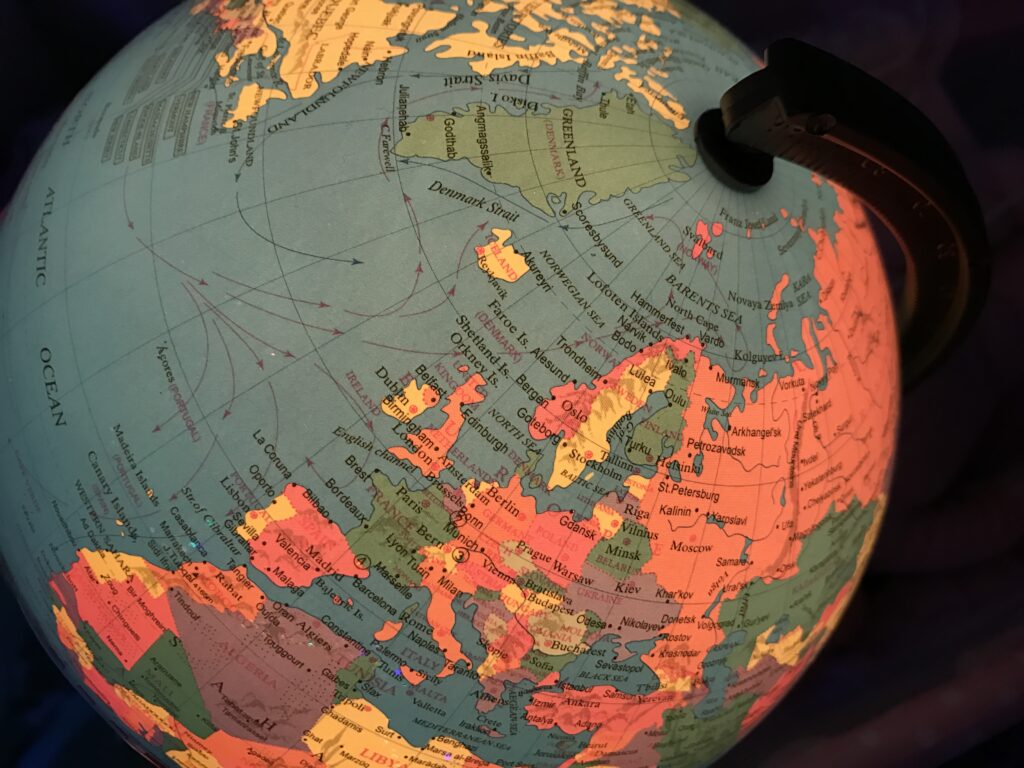 I have a few observations: First, all of God's people assembled to seek God in the face of their national crisis. Nobody was apathetic just because they hadn't been personally affected yet.
Second, as they praised Him and met the enemy together, God fought. Having faith that God will fight for us might manifest in unconventional responses. But what kind of provision might God be waiting to pour out on our nations? Could we corporately offer a sacrifice of praise in faith before the help even comes?
Third, those who were appointed to praise were given the front row seats to witness God's miraculous provision. Praising God might feel like a risk we're not ready to take, but really it's an invitation to view God at work from the best seat in the house.
Fourth, God kept His word. God hasn't changed. That's a reason to praise Him.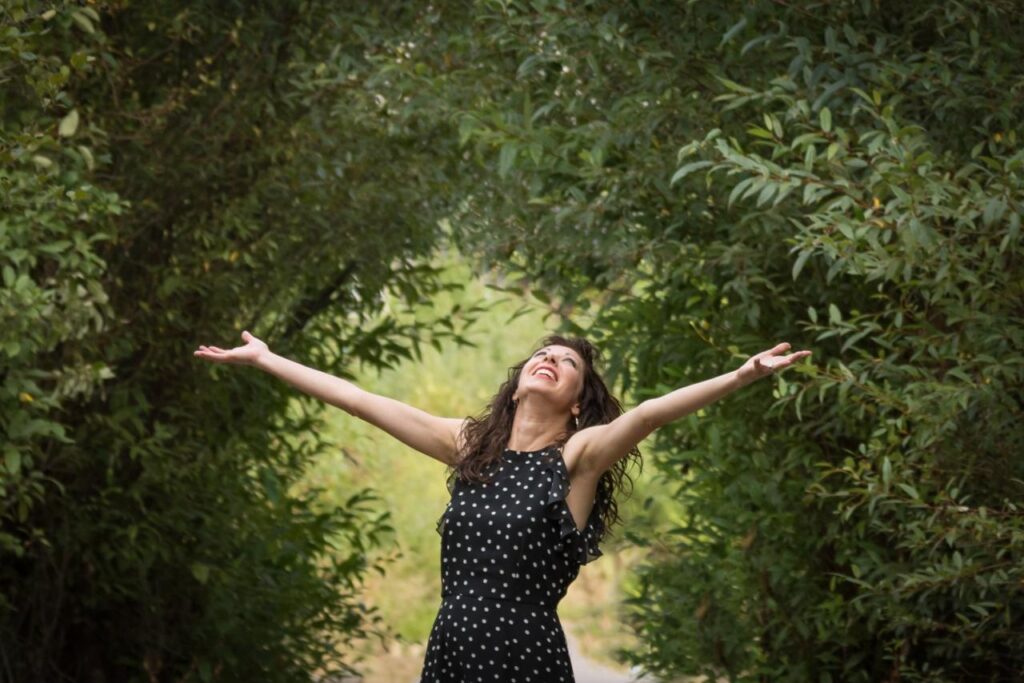 "When I shut up the heavens so that there is no rain, or command locusts to devour the land or send a plague among my people,if my people, who are called by my name, will humble themselves and pray and seek my face and turn from their wicked ways, then I will hear from heaven, and I will forgive their sin and will heal their land." 2 Chronicles 7:13-14
It's been precious to hear my eleven-year-old pray at night, "And God, please help us humble ourselves – not just us but Your people all over – and pray. And please take away the Coronavirus."
Fifth, God's people were going to fight their crisis one way or the other, but Jehoshaphat was willing to risk facing the crisis God's way.
I'm well aware that God might not take away the enemy the way He did in that instance. But He might. And whether His provision comes as we expect or in a surprise package, the way Jesus first arrived, we can know God will provide for His people in times of trouble. That's a reason to praise Him, too.
I have a terrible memory so I have to write everything down. In case you have the same issue, or just enjoy jotting notes, I designed a set of notecards for you.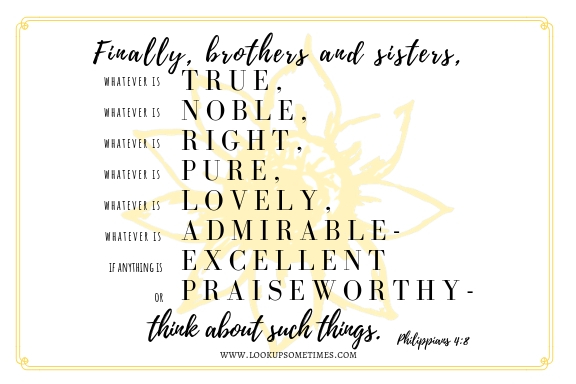 I also hand-lettered Philippians 4:8-9 awhile back when a friend asked me to make it for their Bible study group; they wanted a way to interact more with the verse. The idea is to name one thing that fits each of the categories. (Read previous posts for some ideas if you're drawing blanks.) My copy is hanging in my bathroom in a cheap frame from the dollar store so I can write on the glass with dry erase marker. I hope that this is a helpful tool for you, too!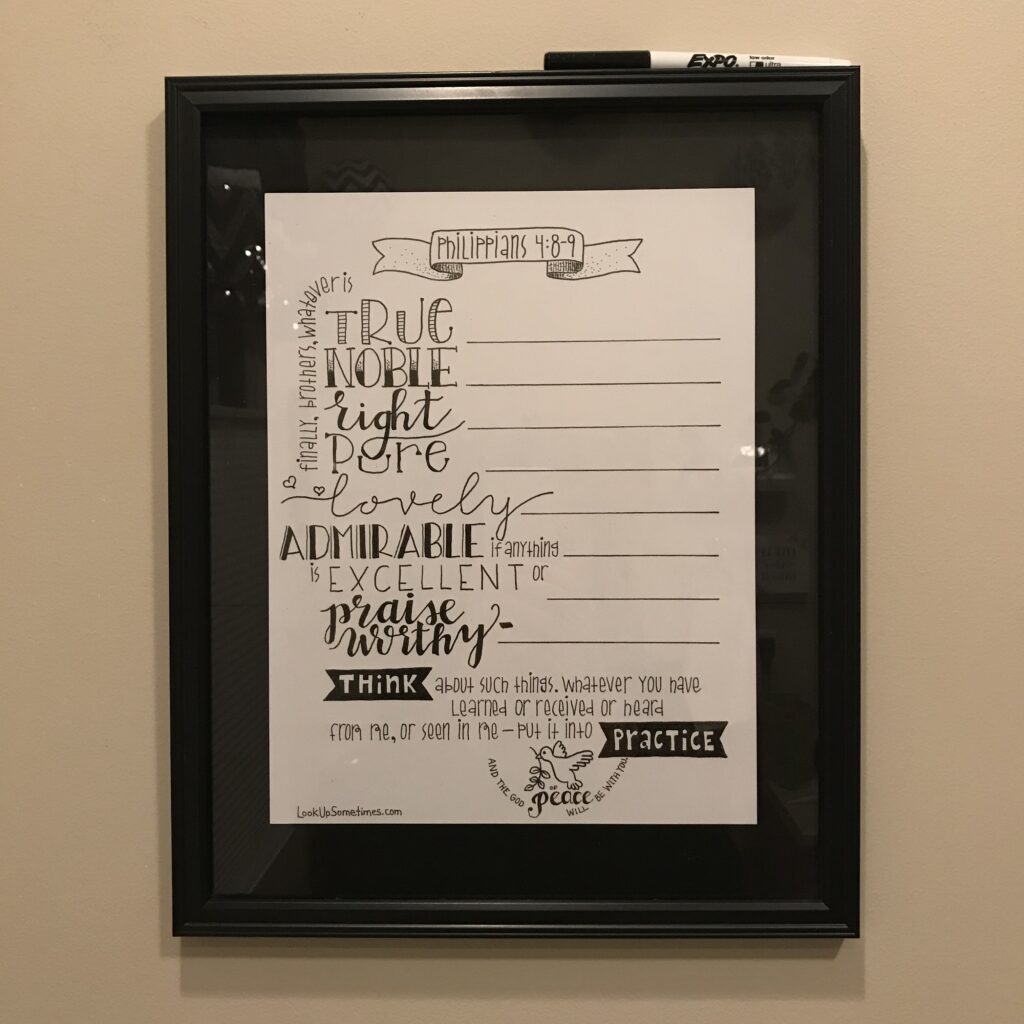 So yeah, are there words that are appropriate for our global disaster? Probably not so much. But the Word who became flesh still dwells among us and that's another reason to praise Him.
We can pray along with Jehoshaphat, "For we have no power to face this vast army that is attacking us. We do not know what to do, but our eyes are on you."
I don't have answers, but I take comfort when anxiety hits, in praying with God's people who help me praise Him even when the provision is still on the way. In the spirit of helping each other corporately praise God, would you be willing to comment with one way our God is praiseworthy?
Keep looking up!