It's deceptively delightful at the moment – homemade applesauce simmers on the stove permeating the house with the fragrance of cinnamon. It's not that the applesauce isn't delicious or that the house doesn't smell amazing. It is, and it does. But the circumstances prompting this uncharacteristic domestic display are less than ideal.
What doom and gloom created applesauce-awesomeness-from-scratch at the Allard household? The short-ish answer is because my doctor put me on a restricted diet that is focused on whole foods, no sugar (and no lots of other things). Why snub my nose at perfectly good unsweetened store-bought applesauce? Because I'm only allowed to eat the green apples. But in two words? Lyme disease.
Isn't it interesting that when we get sick, we need to return to the basics, the pure?
"He humbled you, causing you to hunger and then feeding you with manna, which neither you nor your ancestors had known, to teach you that man does not live on bread alone but on every word that comes from the mouth of the Lord." Deuteronomy 8:3

I've thought about hunger lately.
I won't sugarcoat it (I'm only allowed stevia) – this hopefully temporary diet is maddeningly restrictive. My approved list, at one point, consisted of less than three dozen ingredients. And bread and cheese were not on said approved list. I haven't eaten bread in over a year, but cheese? I'd gone without it for 3 months before, and I hated.every.moment.
I've gone to bed hungry because I didn't want what I could have. After eating hardboiled eggs for several meals, it gets old. I've thought about the fact that it's been a long time since I remembered what feeling hungry really felt like. And then guilt because so many in our world can't say the same and what's my problem, anyway?
Recently, I may or may not have lost my temper completely, screamed like a mad woman, and banged some pots and pans around in a fit of rage, scaring wide-eyed children and needing to seek forgiveness from everyone in the house before the day was over. Nothing like a restriction to bring out the true me.
Multiple times a day I'm forced to remember my dependence on food, and sometimes I just loathe that. I know God's allowed it. It's certainly not the worst thing I've endured and it's nothing when I think of friends who are suffering far worse. So I start counting my blessings – until mealtime rolls around, the acids in my stomach churn, and I transform into an axe murderer wrestling through my limited options again until I get a meal inside my belly.
The struggle is real.
Should I despise my dependence when God built it into me? Should I despise that it's a tool to cause me to look up sometimes? Should I resist building purity into my life, my diet, when it's clear that's what God is after? An integrity, a wholeness not just in spirit, but in mind and body also? Like our pastor asked on Sunday, do I magnify God in my body?
Sometimes I get it right. Often I whine and want my husband to make meals so I don't go flying off the deep end stressing about food again.
(Side note: The Israelites knew what it was like to have a restricted diet. And we all know how well it went for them when they complained and grumbled! Ahem.)
What area of your life needs tending to? Where have you thought you've done well, only to be pulled up short, cut off at the knees and left lying on your back wondering what just happened?
Friend, I'm feeling your pain. But there is no punishment – only help. Our God absorbed all the wrath His justice demands so that there need be no punishment. We can come boldly asking Him to help us in our time of need whether it's food related or something completely different.
In this series through Philippians 4:8, we're considering whatever is true, noble, right, and now pure for the purpose of translating abstract niceties into reality. If it's helpful, download and print the note card below to record and carry a verse with you (can't think of anything more pure than God's words) so you can feed your spirit throughout the day. I'm currently loving Philippians 2:13.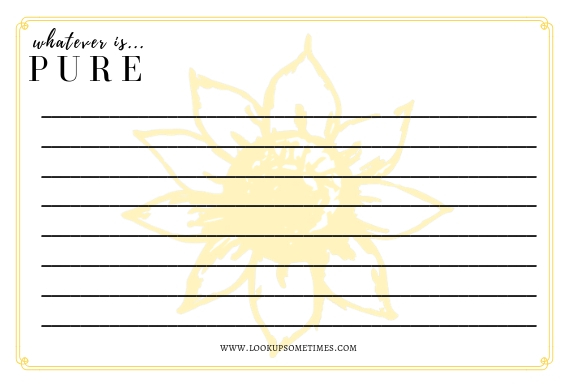 Purity starts with God because we can't ever be unless He pours Himself into us, which He does when we accept Christ.
"God made him who had no sin to be sin for us, so that in him we might become the righteousness of God." 2 Corinthians 5:21
Notice how the verse both starts and ends with God? Becoming pure is about more of God in every area of my life.
I watched an amazing short clip on Instagram once. I wish I remembered who to credit. The video clip showed a glass full of dark, polluted water. Subtitles explained sin pollutes our life and we can't ever become pure again. The only solution is God. A hand held the glass under a running faucet and as the pure water ran into the polluted glass an amazing thing happened: the pollution decreased and the purity increased. Within a short time, the glass was filled with pure water.
Purity is about more of God.
A phone conversation with a dear friend today turned my thoughts to the days when I'd understood fasting horribly wrongly, depriving myself of food until I'd nearly wasted away, trying to pay penance for my sin. Not possible. I didn't need less food. I needed more Jesus. As I increasingly understood this, my health increased in all areas of my life. I regained the lost weight, I made healthier decisions, and I sought God because He'd sought me first.
Purity is about more of God.
Twenty years later and I have a small understanding that true fasting is not deprivation for show-and-tell. It's to remind oneself of your dependence on God and a time to devote yourself to more of God in prayer. Purity. Because the pure in heart will see God. "And maybe you can view your restricted diet as fasting?" my wise friend suggests. Though perhaps obvious, it had never occurred to me…
This week I experienced severe weakness that left me helpless to feed myself — twice in one day. My husband (on crutches and in a leg brace due to an injured knee) hobbled over to feed me. I still ate even in my weakness. It was a humbling experience.
God humbles his people to cause them to hunger for more of Him, not so that we'll lose our tempers and crash pots and pans around the kitchen, screaming in a fit of rage, but because He knows we need more of Him and longs to give Himself to us. I've been reminded anew of how desperately I need my Savior.
More of Him, less of me.
What deprivation in your life, that you'd have never chosen, might be a disguised gift to display your need for our Savior in a new way? God didn't leave His people hungry in the wilderness – He fed them food from heaven.
I am preaching to myself and if you need this too, may God shed His grace on the both of us.
Dear Jesus, I fling myself at Your feet, sorry for the whining mess I often am when You are trying to give me something pure and good. It often doesn't feel good. Please help me accept what You give from your love-scarred hands. Please continue the work inside me You've started, giving me the desires I should have, and empowering me to carry them out. In Jesus' Name, amen.
"May the God of hope fill you with all joy and peace as you trust in him, so that you may overflow with hope by the power of the Holy Spirit." Romans 15:13