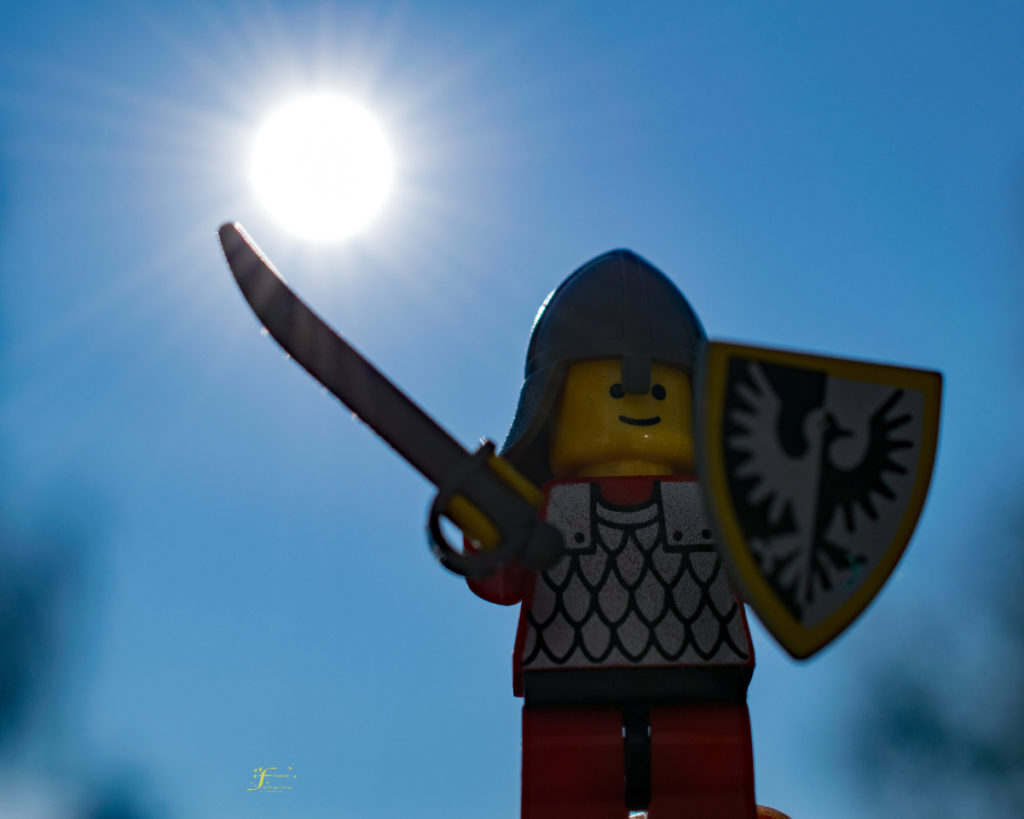 For anyone who's ever defaulted to a straitjacket of fear – reading about Jesus telling his followers they will have trouble can be enough to drive us to hide quivering behind locked doors.
John 16:33 "I have told you these things, so that in me you may have peace. In this world you will have trouble. But take heart! I have overcome the world."
Why bother getting out of bed, then? All I hear is trouble and can't focus on anything else. But consider the context: It's sandwiched between peace and victory. Do I meet the attacks in my life with God's peace and expecting victory?
One recent Sunday, my pastor preached about the sufficiency of Christ from Hebrews. In Sunday school we discussed the armor of God (found in Ephesians 6), specifically the shield of faith, and the importance of prayer. I visualized rows of soldiers united in cause under their king, marching with linked shields – nearly impenetrable – advancing against the enemy.
The war visual helps me.
It explains why those I'm joined to in God's family of faith often get attacked the same time I do. Sure, we're advancing against our enemy's attacks. That gives weighty importance to loyalty and having each others backs in prayer. Even as I'm attacked by fear, I can fight in prayer for someone struggling with a flaming arrow of doubting God's goodness, as He allows disease to ravage, or shootings to take place, or loved ones to die.
It explains why it's so necessary to understand who the enemy is and who the enemy isn't.
Humans are never the true enemy. If they act like it, they may be puppets for the true enemy, Satan, who I imagine laughs with glee whenever he can fool us into believing he doesn't exist. Or at least, fool us into believing our problems aren't caused by him or sin; another person must be our problem. Before you know it, we're slaying each other with hatred, shootings, abuse, slander, affairs, jealousy…sure, makes the enemy's job easy. What army ever survived when its soldiers killed each other off?
It also explains why prayer is of utmost importance. I cannot overstate this. It's a huge weapon, the mode of communication with our Commander in Chief. If we can't, or worse, don't communicate, it's only a matter of time until the enemy destroys us.
It explains why prayer feels like work; it is. God's chosen to work when his children pray. Not because he can't any other way, but because we are made for relationship with God and he wants us to learn how to communicate with him in relationship. Not in rote recitations, not in demanding wish lists, not in ambivalent lines cast in the dark hoping he hears but not expecting him to, not in honey-do lists catered to our every whim… None of that.
He wants us to communicate with him like a child would with a good and loving daddy. A daddy who loves so completely he'd sacrifice everything for you. A daddy who will pause his work of sustaining the universe to bend his ear to fully listen to what concerns you. A daddy who wears the highest titles the universe affords but thinks nothing of casting them aside to convince you of his gentleness and tenderness so you won't die of fright.
This is the God who warns us what is to come in this world: trouble. But before the trouble is mentioned, he promises his peace. And after the trouble is mentioned, he promises his victory.
1 John 4:4 "You, dear children, are from God and have overcome them, because the one who is in you is greater than the one who is in the world."
We were born onto a battlefield and it's a messy, harsh place. We need each other. Is there a way I can pray for you this week? It would be my honor.
Expect attacks. But also expect victories!
Below is a link to a song I totally love called Greater by MercyMe. This foot-tapping tune captures the idea in 1 John 4:4 and is a powerful weapon of truth and love to have in your arsenal. May you be encouraged!