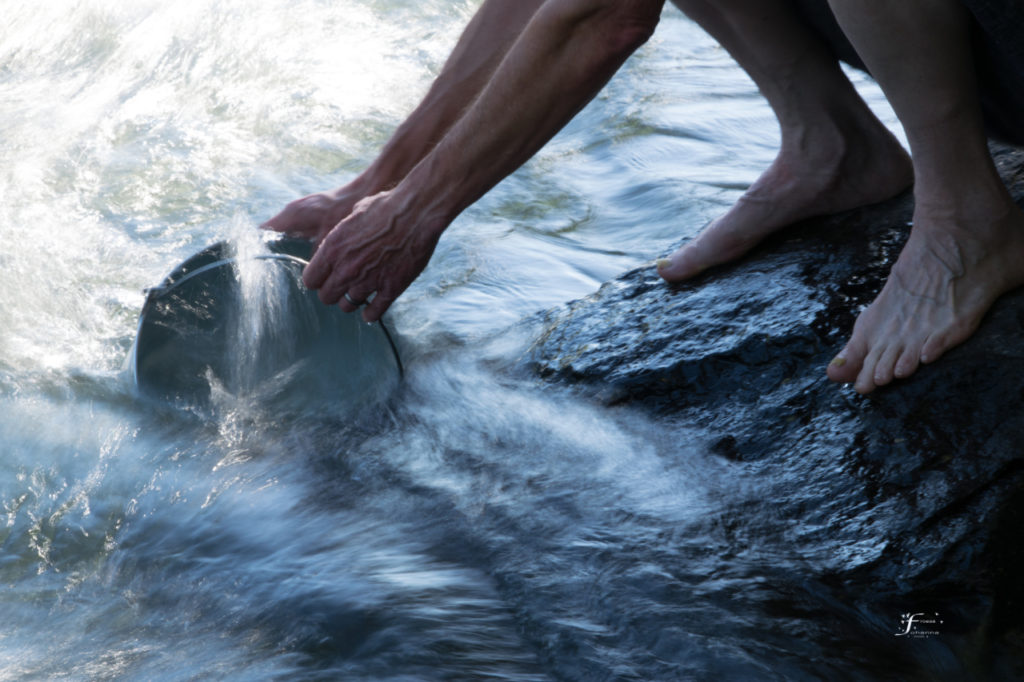 I still remember an interesting act from an elementary school talent show between two characters, "dear Henry" and "dear Liza."
If you know the children's song, you already know Henry tells his dear Liza, "There's a hole in my bucket." And dear Liza answers quite practically, "Then mend it, dear Henry!" And he asks her, "With what shall I mend it?" and they banter back and forth until Henry needs water and asks, "In what shall I carry it?" And you can guess the dialogue that follows: "In a bucket, dear Henry!" "But there's a hole in my bucket, dear Liza…"
This hopeless situation is humorous in an act on stage with cute kids to boot. It's not so humorous in real life behind closed doors where real persons wonder if attempting to capture God's love, with our internal heart bucket, is worth the effort required.
Are you familiar with the concept of bucket filling? My own children are now in elementary school and they speak in terms of being a "bucket filler" or a "bucket dipper." Basically, each person has an invisible bucket and doing and saying kind things fills another's bucket, as well as your own. Saying and doing unkind things dips from another's bucket, as well as from your own. Pretty simple concept.
Not so simple to do. Especially when life happens to our buckets and leaves them in less than brand new condition.
What if there's a hole in our bucket?
A ravaging disease that drains the life out of us or someone we hold dear. A wound that secretly festers and is never satiated regardless of the amount others pour into our buckets. A specific worry that won't leave. Depression. What are the holes in your own heart's bucket? But more importantly, what on earth can we do about them?
Not much, is the short answer. But it's ok. Let me explain…
It was a Sunday morning and it was hard to drag myself out of bed. It was just a low energy kind of day. It necessitated some quick getting ready so I didn't make us late to church. (Wouldn't be the first time.) While I was showering I had the thought, "What am I willing to give up to love my family well, so we are not late?" I gave up the time I'd normally spend on my hair, opting to simply run a comb through wet hair. Good enough. To my shock we were on time!
Later in the day, we followed some friends in the car a few hours north to a campground in Northern Michigan. I used the time in the car to pray, and this thought prompted in part by the sermon I'd heard (well, partially heard in between answering all of both kids' questions since the kids were sitting in service with us) occurred to me: The real question isn't what am I willing to give up for Jesus (while trying to live a grateful, worthy life). The real question is: Where will I move the hopes I already have? If some are in how I look, for example, then axing time on my hair could carry potential anxiety or feel like a sacrifice.
If, however, I view it as transplanting my hope from how I look (or how well I perform, or how many people like my status on Facebook, or how many compliments I receive, or how healthy I am, or how well my children behave, or how much money I make, or you-fill-in-the-blank) to Jesus, then I am moving from unstable to stable ground. With my hopes anchored in Jesus, I am ideally placed to experience an unbroken flow from the fountain of God's love.
I visualized a fountain, perhaps on the scale of Niagara Falls. We each have a bucket. We take it to Looks as our culture screams that we should look a certain way, and it promises to fill our bucket. But soon Looks kicks our bucket over and dents it. Shocked, we right our bucket and head over to Loving & Respectable Person because they look like God, Work because it looks like dignity, Unending Activities because it looks like merit, Lust because it appears like love, Bitterness because it appears like justice, etc.
Buckets emerge punctured, lacerated, and wholly unable to hold liquid anymore. No matter. Whether you chose to hold out your hopes to others and were left holding a worthless scrap of rusted metal or whether your bucket is functional, shiny, and new, "Niagara Falls" is the great equalizer.
All buckets brought into the unending torrent of God's love hold love, because they never cease to be poured into. Holey buckets simply pour out into multiple directions, that is, if you could make out that small detail in the midst of the glorious rush of water. Scraps of mutilated metal that fail to resemble their original function are no less enveloped by this eternal waterfall than their brand spanking new counterparts.
All buckets held in the flow are lost in the torrent of the unending love of God and are, thus, found.
This is what it means to abide in Christ. To take our buckets in whatever condition they're in to the Niagara Falls of God's love. To allow him to transplant any errant hopes that harm and place them square in the rush of unending grace. We are untouchable in this place. Our spirits protected by the force of Almighty God who did all the sacrificing already.
There is no sacrifice left. There is only transplanting of hopes.
And receiving of blessings.
My prayer for you, friend, is that wherever you are, Jesus himself will carry you to the place that places you ideally in the flow of his love for you. He's willing you know. And he's certainly able.
"I pray that out of his glorious riches he may strengthen you with power through his Spirit in your inner being, so that Christ may dwell in your hearts through faith. And I pray that you, being rooted and established in love, may have power, together with all the Lord's holy people, to grasp how wide and long and high and deep is the love of Christ, and to know this love that surpasses knowledge—that you may be filled to the measure of all the fullness of God. Now to him who is able to do immeasurably more than all we ask or imagine, according to his power that is at work within us, to him be glory in the church and in Christ Jesus throughout all generations, for ever and ever! Amen." Ephesians 3:16-21