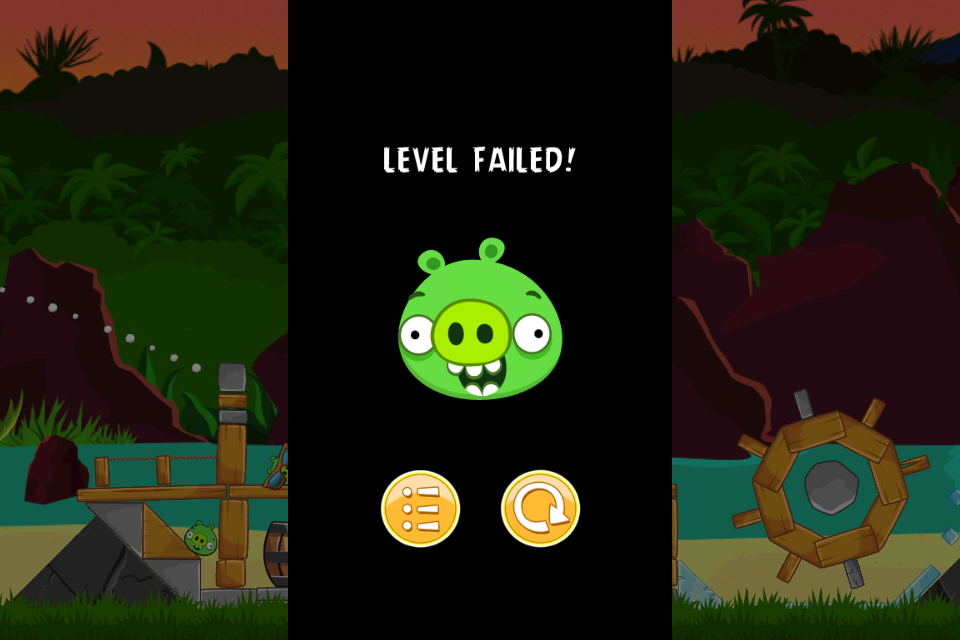 Life is a lot like playing Angry Birds. We're supposed to be actively involved in our advancing through life's levels as we're told to, "continue to work out your salvation with fear and trembling." (Philippians 2:12) And I believe God wants us to take risks and be fearless ,even in the face of mistakes.
I didn't have enough energy to be productive, but I was awake and couldn't sleep. Being sick had rearranged my schedule, so I played Angry Birds while the family slept. If you've never played this game, the object is to launch a predetermined number of  "angry" birds through the air with a giant sling-shot and knock down various elaborate structures and crush all the piggy enemies. Yeah, kinda silly, and there are a ton of levels to keep you playing. (This was years ago, before I was introduced to Candy Crush.)
I passed several levels in the game, but not without seeing Level Failed multiple times. Did I give up, cry, and despair? I'll give you three guesses. I took note of what did and did not work, and I tried again. And again. It never even entered my mind that I could be penalized for failing a level. If I passed, I could move on to the next level. In effect, I never lost – I won or I learned.
It's the same with life. There are natural consequences from our actions, but not punishment for them.  "Therefore, there is now no condemnation for those who are in Christ Jesus." Romans 8:1 Thomas Edison, had some 1,000 Level Faileds behind him before he succeeded in his work on the light bulb. That's some kind of risk-taking and perseverance.
In whatever level of life we're in, if we feel stuck, things are difficult, and progress doesn't seem to be forthcoming, much less success – don't give up! Hmmm, Winston Churchill anyone? And after the nth time, may there be that light bulb moment that may even benefit others.
My thoughts turned to commentary about the parable of the talents in Matthew 25 made by Henry Cloud and John Townsend. In the story, three servants are entrusted with differing amounts of money, according to their skills. Then the master goes on a long journey. The first two work hard, make profits, and are commended when their master returns. But the third servant was pronounced "wicked and lazy," because he fearfully buried the money. The fearful servant that did nothing was the one that was chastised and cast out.
I was so angry reading that! I've been paralyzed by fear all this time, not wanting to make mistakes, and all this time THAT is the very thing God despises?! I was so disgusted, I could have spit. What lies had I been buying into anyway?! There is NO condemnation in Christ – I've got a safety net that allows me to take risks for God without fear of making mistakes!
What mistake are you afraid to make? Are you willing to consider that the only real mistake is that of not trying? God is for us, not against us! "What, then, shall we say in response to these things? If God is for us, who can be against us? He who did not spare his own Son, but gave him up for us all—how will he not also, along with him, graciously give us all things?" (Romans 8:31-32)
A dear friend texted me these words and I scrawled them on a post-it and stuck it on my wall: We never lose; we win or we learn.