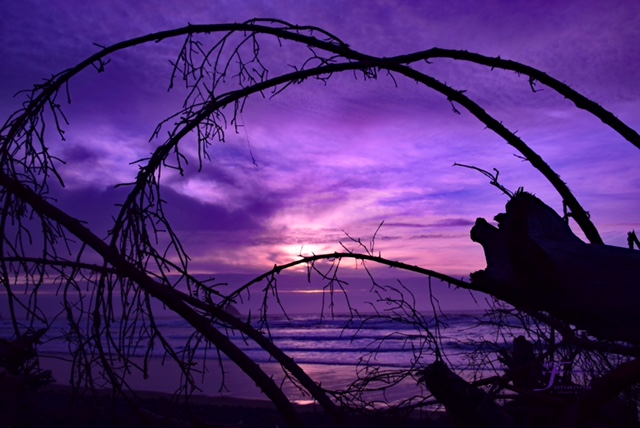 I am somewhere between the apples and the strawberries in the produce section when it grabs hard and stops me in my tracks. My insides feel twisted. An all too familiar feeling. I grip the handle of my grocery cart with one hand and stare down at my list in the other, pretending to read but unseeing. Hope desperately no one notices and just goes on with their business. The store is not crowded today like my chest feels. Inhale, exhale. Repeat. This anxiety will pass. I keep moving.
"Can I get a half pound of honey turkey?" I ask at the deli, smiling. Like nothing is wrong. Like my insides aren't thrashing. "Actually, could you make that 3/4 pound?"
The girl gets the weight exactly right. I marvel at the exactness, thinking the only thing I am exactly at this moment is pathetic. I keep moving, numbly putting things in the cart, pushing past the sensation of overwhelm. I detest this feeling. It's just grocery shopping. This isn't hard. You do this every week. Everyone else can do this. Berating myself has never worked. Reasoning is unsuccessful. It has to run its course. I'll be ok after I'm home.
I'm at home, putting groceries away, exasperated with myself and wishing I was stronger. Seriously? After all these years, you still struggle? I pause to consider: how would I treat someone else in this scenario? I'd be quick to listen and offer empathy and prayer support. Quick to reassure that it's not pathetic at all; it's just a sign of being human. After all, who doesn't have issues?
Welcome to the human race.
But it's hard to accept the same grace I'd readily hand someone else.
I recall a specific time fifteen years ago when I struggled to embrace food. Thought God had blotted me out of his book. I'd messed up too much, and knew better, so barely surviving was my penance. One afternoon I made lunch, moved by belief God wanted me to eat, and I wept for joy. I had no idea God was still interested in me. Did he really want to sustain me? Did he actually still love me?
Fifteen years later and it's a different tune, same story. While I don't struggle with the same issues and am quicker to look up and embrace his provision, I'm still frequently a hot mess. (The joys of being under construction – "thank you for your patience as we may experience some delays.")
But fifteen years later and God's not any different either. He's still gracious. He's still gentle. He's still proclaiming, "It is finished!" eager to draw us, the ones of us willing to admit we're not so strong after all, to himself. He delights to lavish his amazing love on us and derives joy from doing so. Do I believe that? Will I accept his love? The promise of his constant love is the anchor for my soul. Even when, especially when, I have caved to lies, question, doubt, or am weak.
Do you believe you have to be amazing? Are you tired of riding the roller coaster of sometimes-you-are and sometimes-not-so-much?
"Come to me, all you who are weary and burdened, and I will give you rest. " Matthew 11:28 (NIV)
This is the good news that is made possible by Easter, by Jesus' death and resurrection, for which I'm forever thankful: My identity is secure. I am loved whether I feel amazing or not, because God never calls me to be amazing; that's His job.