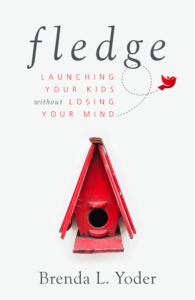 I first met Brenda Yoder at a breakout session at the Breathe Christian Writers Conference last October. She has a wonderful mix of get 'er done attitude and compassion for those trying to get 'er done.
In her latest book Fledge, she pours out her heart about what it looks like to release kids from the nest while still having kids at home. She offers scriptural guidance and personal anecdotes that give hope to moms of teens getting ready to launch them into the world.
I don't yet have teens. Our kids are only 7yrs and 9yrs. So I'm not the target audience, but reading Fledge did two things for me: 1) It cast vision for the future. It especially challenged me to continue nurturing my marriage, because after the kids are grown, the marriage remains. 2) It caused me to reflect back on my own experience as a young adult leaving the nest. I think I was an abnormal kid, because I did feel sorrow on behalf of my parents when I fledged. But looking at that experience from the perspective of a parent now, it helps me evaluate what I'd do the same or different with my own kids. (You did great, Mom and Dad!)
My two-cents: Just a note of caution for younger moms who like to be prepared WAY in advance and are considering reading this book: Know yourself. If you tend towards anxiety, I'd recommend waiting to read it until your firstborn is at least a preteen. Because the rigors of parenting require much of you at every stage, you don't need to focus too far ahead. Only the Lord knows what the future holds anyway and He'll hold you – and your children – every step of the way.
If you are interested in winning a FREE COPY of Fledge, leave a comment on this post, share this post, or subscribe to Look Up Sometimes in the sidebar. (Just let me know in the comments!)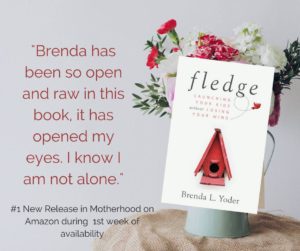 Brenda has graciously answered a few interview questions that offer additional insight into her book.
Q. What triggered your decision to write Fledge? How long was it from idea to reality?
A. Herald Press approached me about writing a parenting book for them and I knew right away that I wanted to write something about the stage of life I was in–releasing kids but also still raising some. While there were resources for parenting teens and young adults, there were absolutely no resources about parenting both at the same time and the changing family and hormones that occur when you're releasing kids but don't have an empty nest.
From idea to reality? We discussed the book in the fall of 2016, signed the contract in December 2016, I wrote the first draft by March 1 2017 and it releases March of 2018.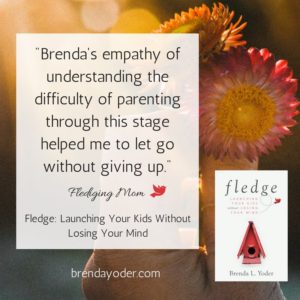 Q. I imagine birdhouses have taken on new meaning for you. Do you have a favorite bird?
A. I think the photo of the empty, worn, birdhouse on the front is what is most meaningful to me, because I feel worn and empty as a fledging mom.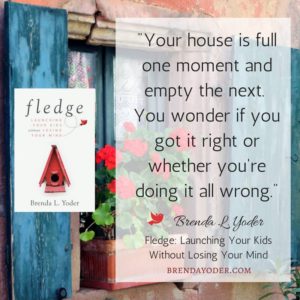 Q. What's been the biggest joy of writing Fledge?
A. Putting to words what I couldn't express for such a long time and knowing that other moms experience these same feelings. The section about the legacy my father in law left and the locker room scene at the end of the book are the two experiences that are forever etched in my brain and the opportunity to put words to them in a way that ministers to others is a great joy. The biggest joy of the whole book is the culmination of some very intense parenting moments centered in the truth of Scripture that possibly will help others.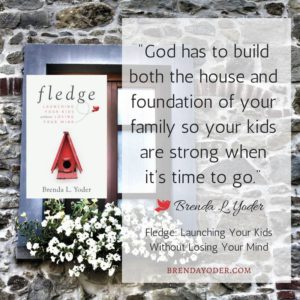 Q. If you were assembling a handful of books for new parents to carry them through birth to Fledge, which other books would you include?
The Birth Order book by Kevin Leman.
Losing Control and Liking It by Tim Sanford.
Boundaries with Teens by Townsend and Cloud.
Parenting: From Surviving to Thriving by Chuck Swindoll.
My first book, Balance, Busyness and Not Doing It All.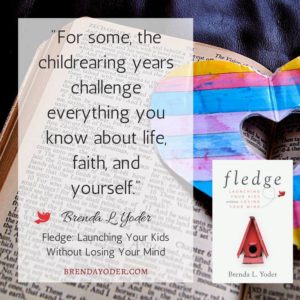 Q. Do you plan to offer an audio recording of Fledge for moms on the go desiring to absorb your wisdom?
A. I think that's up to the publisher, but it sounds like a great option down the road!
Q. When did you become a Christian?
A. I was raised in a Christian home and chose baptism at age 10. God became personal to me at seventeen in the midst of an eating disorder. I chose to fully surrender all areas of my life to him around age thirty six and I'm been more in love with God ever since.
 Q. As not only an author, but a speaker with a counseling and education background, you've dealt with heart-shattering topics. How do you handle the stress?
A. I've had to learn to set a lot of professional boundaries, and one of those currently is doing more life coaching and educating rather than counseling clients in crisis. I also am proactive about self-care and letting my husband know when I am not doing well. I say "no" to a lot of unnecessary busyness.
I book I've found helpful is "Trauma Stewardship." While I don't endorse all of the practices in the book, understanding the effect of secondary trauma on professionals working with crisis and trauma is helpful.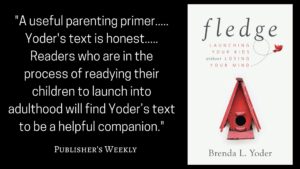 Q. You do an amazing job balancing the need for growth with creating a grace-filled breathing space for moms to be wherever they are in the parenting stages. What piece of advice would you give moms seeking to follow your lead in mentoring moms a step or two behind them in the process?
A. Give grace upon grace upon grace to other moms but also be real with them. When I was going through the hardest stage of parenting our oldest ones, I felt like I was all alone. I needed an older mom or a couple just a few steps ahead of me who had walked through hard things with their kids but had made it with their faith and family intact. I am unofficially committed that no mom should feel the way I did in the church. Alone and judged. I would encourage other women to not just offer younger moms grace and a mess—but grace and a mess with strength and truth from God's word. Live it out and share God's faithfulness in the hard places. There's plenty of fluff. Real life is the hard stuff.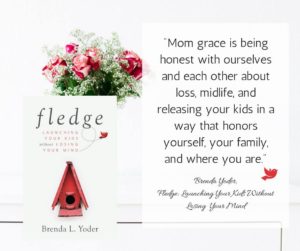 Q. Maybe it's too soon to ask, but do you plan to write another book?
A. My agent currently has a book proposal out to several publishing houses so we'll see what comes of that! I have several others in the hopper—just need the time to get them done. But life's not a race, so one book and book proposal at a time.
If you are interested in winning a FREE COPY of Fledge, leave a comment, share this post, or subscribe to Look Up Sometimes in the side bar. The winner will be contacted March 14th, 2018!
---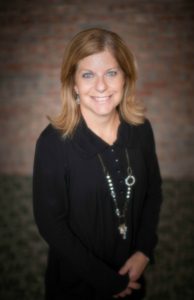 Brenda Yoder is a national speaker, author, Licensed Mental Health Counselor, and life coach whose passion is encouraging others when life doesn't fit the storybook image. Authentic and humorous, Brenda connects with women and moms in a way that will have you laughing and crying all at the same time.
Her new book, Fledge: Launching Your Kids Without Losing Your Mind is a personal handbook for parents in the season of raising and releasing kids. Brenda's been featured in Chicken Soup for the Soul books: Reboot Your Life and Confident and Curvy; the Washington Post, and For Every Mom. Her first book for busy moms, Balance, Busyness, and Not Doing It All released in 2015.
Brenda is also former teacher and school counselor and was twice awarded the Touchstone Award for teachers. Her ministry, Life Beyond the Picket Fence, is found at brendayoder.com  where she writes about faith, life, and family beyond the storybook image. Brenda is a wife and mom of four children, ranging from teens to adults, and lives on a farm in Indiana. You can connect with Brenda on Twitter, Facebook, Pinterest, and Instagram. Join her Facebook page to follow the new Fledge Parent Forum for moms releasing their kids.