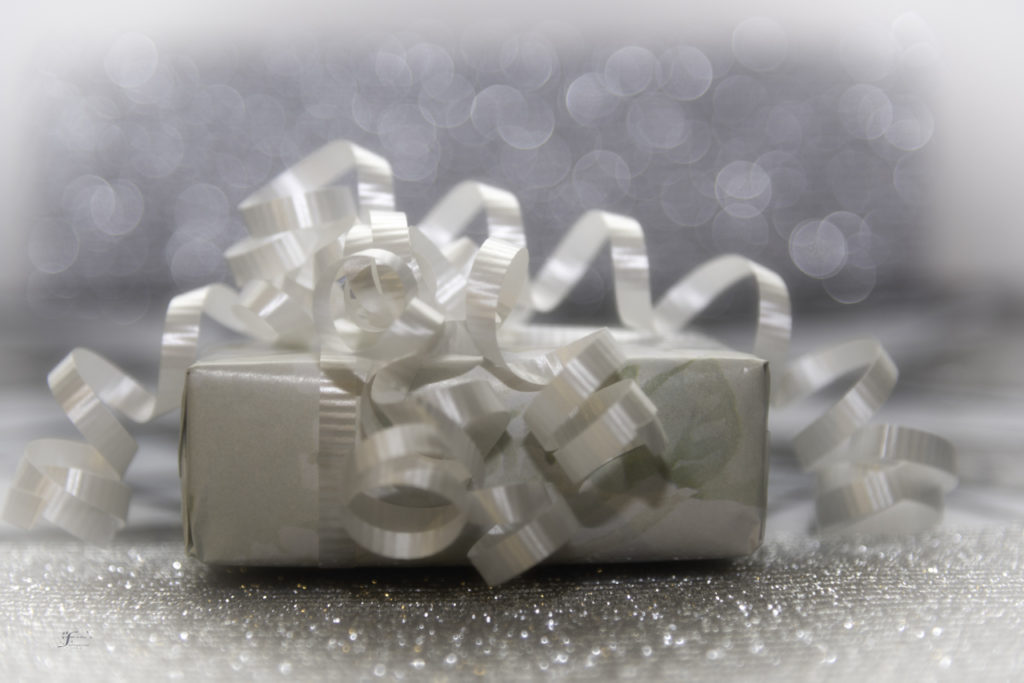 The other day my kids asked me which workout was my favorite. I just laughed. Honest? I hate every workout, every day. (Profuse apologies to my fantastic BeachBody coach Jaime Hall.) I don't like to move it, move it. (Cue the Madagascar song) But there's a driving reason behind why I've started exercising nearly daily, and it's not guilt. Guilt is not an excellent driver. (Rainman fans, anyone?)
It was mentioned in passing, a phrase – not even a complete sentence – and it has since changed the way I think. Debbie Ott mentioned in a lecture in Bible Study Fellowship that Jesus-followers are gifts from God the Father to God the Son. What kind of amazingness is that?
All that the Father gives me will come to me, and whoever comes to me I will never drive away. And this is the will of him who sent me, that I shall lose none of all that he has given me… John 6:37,39a (Christ speaking)
I'm a present? Really? Complete with scars, stretch marks, acne, plain, medium-ish me? Yes. And all the internal flaws that are less obvious. It is awe-inducing to cup the thought that God would find me worthy to give His Son as a gift. What kind of gift is he getting?
You and me, with all that makes us us – some of which is completely out of our control – can't remove or change the value we hold to our Heavenly Father. We are priceless gifts He promises He'll never return or exchange. It's not like the gift you have to force yourself to find something good about to write down on that obligatory thank you note, when all along you're wishing they just gave you cash. (I'm not saying. I'm just saying.)
He wants me. He wants you.
When I know I'm a desirable, for-keeps present to Jesus, it does something inside me. It unlocks a safe place from which I can learn how to love. Shame, guilt, and duty can't unlock that place. Only God's love can. And when it does, when I give myself permission to embrace that kind of crazy-love, it prompts strong desires – which in my current case means exercising. The desire is such that it surpasses my desire to not sweat and not look like a plum-fool-jumping-around-in-front-of-my-tv-hoping-none-of-the-neighbors-see. Curtains, people. Curtains.
And just to clarify, this is not about exercising. It's about a different way of thinking and allowing it to transform how I operate. You might suffer chronic pain or a debilitating disease. You might be a caretaker for someone who's ill. You might be recovering from illness or enduring grief. You might be an exhausted parent with barely enough time to use the bathroom. Whatever your situation, you are a gift just the way you are!
With Christmas and exchanging gifts fresh on my mind, I've thought about how God gives gifts. He gave himself as the gift when Jesus was born. He gave himself as the gift when he lived without ever sinning. He gave himself when he died on the cross. He gave himself as the gift when he rose from the dead. He gave himself when he promised the Holy Spirit to live inside his followers. I'm guessing that's why God says there's no greater love than to lay down one's life for one's friends. Because the best thing we can give to another person isn't any thing. It's ourselves.
When we follow Jesus we are a gift not just to God but also to each other.
We can lay down our life in a hundred little ways every day. Each involves being completely present. Because we ARE completely a present.
As we head into a new year, maybe you're thinking about resolutions or maybe you're more like me and threw out making those years ago (I told you guilt is not an excellent driver). If we resolve to do anything this year may it be to wrap our heads and hearts with the amazing truth that we are priceless gifts to God and to each other!
Happy New Year from one gift to another!