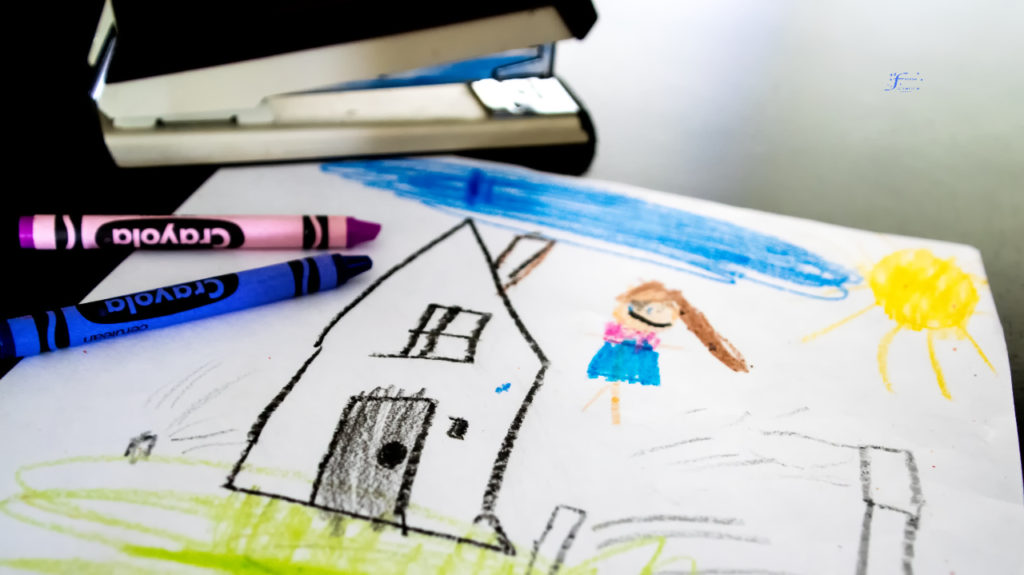 My four-year-old daughter colored several papers and attempted to staple them. Her six-year-old brother observed.
"I have to push with all my weight when I use the stapler," he said, validating her struggle.
Suddenly, she stood up, chair scraping, launched her project in the trash can, and stormed to her room.
"I'm right here if you want –," <cue slamming door> "—help." I sighed and shook my head.
I rescued the discarded book. I gave her credit: she managed three staples in the middle, a harder task than the one she couldn't figure out. The 90% good thrown away for the 10% bad. Guess the apple doesn't fall far… I held the rejected efforts.
I knocked on my daughter's door, announced myself, and waited. From the sound of the muffled "yes," I knew she was hiding in her closet behind a sheet — a makeshift stage curtain. I stood outside the curtain and again, requested permission to enter. A verse leapt to mind.
"We have this hope as an anchor for the soul, firm and secure. It enters the inner sanctuary behind the curtain, where our forerunner, Jesus, has entered on our behalf." (Hebrews 6:19b-20a) I waited.
"Oh-kaay," she said. I heard reluctance mixed with relief.
I brushed back the curtain, eased myself into criss-cross applesauce, and gently hugged her. She picked at the carpet.
"Are you frustrated?" I asked.
'Yes! I want to make a book, but it isn't working the way I want it to!" She huffed and folded her arms.
"You want it stapled so it can open like a book?" I clarified.
She nodded. "But — I already threw it away." I heard regret on the brink of collapse.
"Mommy knows a way to fix it. Do you want me to help you?" I wanted to answer for her but restrained myself.
"Yes," she said and followed me out of the closet. With wide eyes she stopped suddenly. "But I tried, and I can't do it!"
Oh, dear daughter! My heart ached for her. It would have been far faster to just staple the thing and be done with it. Ten seconds or less, the whole ordeal done. But without struggle, would she remember to have confidence in my ability to help her next time?
Isn't there always a next time?
Back in the closet again.
Experience told me a meltdown was just around the corner. With too much at stake, and previously granted permission, I re-entered her room. I spoke to her through the curtain.
"Mommy knows things you don't. Mommy knows a way to fix it that won't take long."
Silence.
Slowly, she re-emerged, wary. I revealed the mystery solution: a staple remover.
"Oh yeah, I've seen those before!" was her cheerful response. I sighed relief.
She wanted to try her hand at the staple remover, but I was spent after this battle too. Thankfully, she was content to watch. As I re-stapled her papers I explained,
"Your book will have some small holes in it, but it will still work great. The holes won't stop it from working." Just like that, her book was repaired.
I'm immensely grateful that our gentle and all-powerful God, who could far quicker fix my circumstances than reason with me, is after something far more precious: me. He finds me so worthwhile he painstakingly offers his presence, comfort, wisdom, leading – and waits with the patience of a gentleman to win my trust and confidence.
"Praise the Lord, my soul, and forget not all his benefits…who redeems your life from the pit and crowns you with love and compassion…" (Psalm 103:2,4)