I swept crumbs from under the dinner table deep in thought. Three separate sources of words – a book, a phone conversation, and a question – collided, and I puzzled through the fragmented thoughts.
Maybe Christ doesn't want codependence so much as He wants co-laborers? But I don't even know what that means.
I'm all in, God! Even if it's painful, I'm all in. Not like I want the pain. (Right? Who does.) But what other real option is there? To whom else can we turn? But what does that really mean that I'm all in?
Perhaps to be all in really means that He is all in me. That I am completely open to Him. To leave the hands open, as Ann Voskamp would say in The Broken Way.
It's a hard thing to trust and leave oneself open.
My mama tried that – and watched… (to continue reading, please click the image below to join me over at Emily Conrad's site)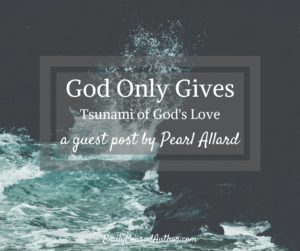 ---
I am honored to be featured as a guest blogger on Emily Conrad's website. Before I knew anything about Emily, I stumbled onto one of her short stories online a little over a year ago. The story was about Christmas and touched me so much I subscribed to her blog. Through emails and comments, it's been a pleasure getting to know this Wisconsin author. If you like Christian romance, Emily's debut novel, Justice, releases March 9, 2018 from Pelican Book Group.