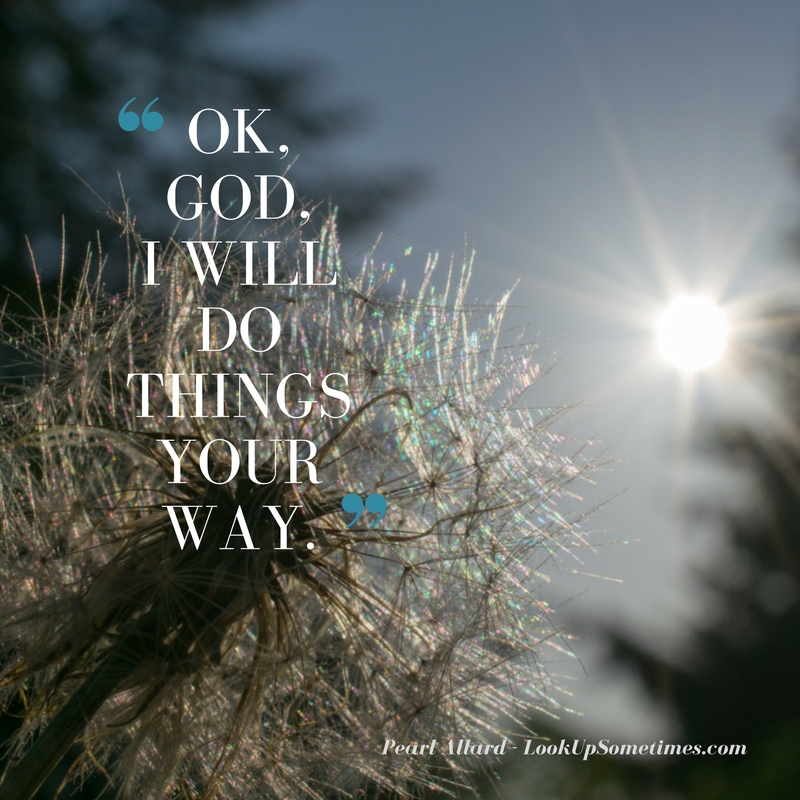 You can click here to read Part 1 of the story and soak in treasures of grace that changed my life and gave me tools to rightly wield truth. For me, embracing grace first – while listening to a sermon based on Kyle Idleman's book Not a Fan  – meant the difference between a truth-stabbing and a song inspiration.
I feel the need to clarify the meaning of Matthew 16:25 "For whoever wants to save their life will lose it, but whoever loses their life for me will find it." This week I heard a story of a young girl who bravely walked forward at an altar call (a "come to Jesus" event) soberly ready to commit suicide.
We don't have to die to come to Jesus, because he rose from the dead to come to us!
The verse is NOT talking about committing suicide or being a suicide bomber or anything of the kind!
God says don't murder (Exodus 20:13). Clear enough. And if our bodies are the temple of the Holy Spirit (1 Corinthians 6:19), then we have the privilege to frame the way we think about and care for our bodies – and the bodies of others – in this context. What kind of environment are we creating for God's spirit to dwell (physical, emotional, or otherwise)? Why would Jesus die to make our restoration possible, take up residence in our hearts, and then turn around and ask us to destroy ourselves or others? It's illogical.
So what does make sense? Doing things God's way.
When God gave me the desire to want him in my life, he also gave me words to give back to him. Scariest, most liberating, sentence I may ever utter: Ok, God, I'll do things your way.
We have numerous, ongoing decisions throughout each day to choose to do things God's way. It's impossible without his help. But assuming we've asked God to move into our hearts and forgive us, then what? We still can't move forward until we start figuring out what even is God's will? (Spoiler alert: God tells us in the Bible.)
The scary thing about following Jesus is that there aren't dead ends. Dead ends can be oddly comforting; they don't require getting out of my comfort zone. When we interact with Life, himself, we find ourselves raising from our comfort zones (aka our graves) and venturing into uncharted territory. A little scary but a lot exciting!
It makes a lot of sense if we believe John 14:6: "Jesus answered, "I am the way and the truth and the life. No one comes to the Father except through me." When we interact with Jesus, we are interacting with life. My best life, truly my only life, flows from the interaction with Life.
I have found that the more I do things God's way, the better positioned I am to experience the reality that belongs to God's children as birthright: peace and joy, to name two.
So the point is, I have no life to lose when I come to Christ! What a relief! If I start out "dead in sin," then why would it be scary to abandon my dead carcass for the adventure Christ offers? I watched a Beth Moore simulcast once, where she tied a mannequin around her waist and drug it around to illustrate this. What I initially think I'm "giving up," I find is shedding harmful baggage I feel better without. You know, as in Lazarus taking off his grave clothes after Jesus raised him from the dead?
The gradual realization that "come and die" is not a physical death but an abandoning of spiritual death prompted the lyrics to this song. I pray this makes sense and allays fears about "losing our lives for Christ." I would love to interact with you more if you have any questions. I don't promise answers, but I'd be honored to pray for you.
Come and Die (Surprising Liberty)
by Pearl Allard
It sounds so scary, afraid to die
Will You ask me to gouge out my eye?
I thought that I was brave but I am not.
You lift my shame-filled face and whisper,
"I bought you…
CHORUS
"So come and die, let Me set you free
From all that keeps you away from Me
Count the cost, I've already paid
I'm inviting you come do it My Way, So you can find
Surprising Liberty."
The cross settles my doubt and drives out my fear
It is finished; be of good cheer
I can trust each step to the nail-scarred hands of He
Who conquered death to rend the veil
And gives all else graciously!
CHORUS
My oxygen flows from Your Joy
But evil seduces and sin looks coy
Left to myself I haven't got a chance.
Wretched body of death, who'll rescue me?
Jesus! You make me dance!
CHORUS
BRIDGE
You withhold no good from him whose walk is blameless.
Do I believe this?
(Repeat 3x)
CHORUS
I've tried before but I always quit
What's the use, may as well stay in this pit
But the labor of death is really the labor of birth
The chrysalis is strength-training
Our struggles don't change our worth!
CHORUS