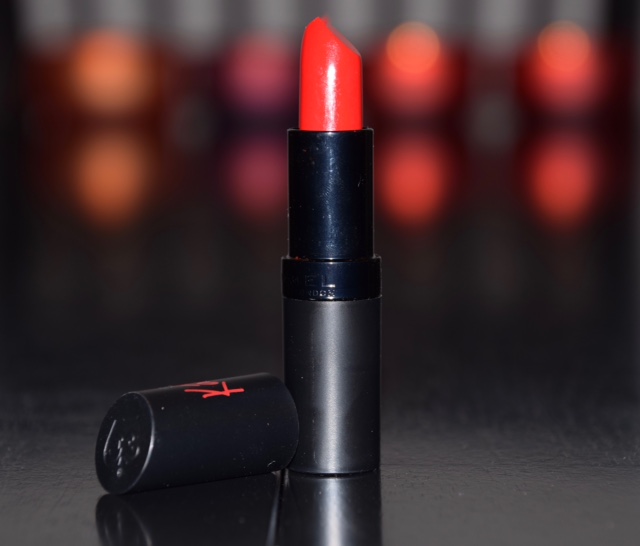 I remember tales of long ago: a pastor wounded my red-lipstick-wearing-aunt with words indicating he more or less equated red lipstick with the devil. Wearing red lipstick meant you followed the devil. And thus, you must be treated as though you were the devil. Doesn't make for a let's-all-praise-Jesus-together atmosphere, you know?
I'm grateful this doesn't seem to be the prevailing attitude today, if a woman shows up in church wearing red lipstick. Of course, it does matter what else she's wearing with it. At my house, we have two rules about dress:
It must be modest.
It must be weather appropriate.
(We also added a safety factor the morning my daughter wore her daddy's Christmas tie like a belt over her sweater, and it dangled like the tail of some Dr. Seuss creature. Thankfully, her supportive kindergarten teacher was merely amused!)
I know for some, the color red is repulsive. Red is the color of failure scrawled across a paper tossed back by an unfeeling teacher.  Red is the color splayed across pavement at the scene of an accident. Seeing red symbolizes anger. I'm sure you could supply other reasons red may offend.
But I'd like to offer three reasons why red can be excellent – spiritual even – instead of offensive. They are the reasons why I personally love (and have the courage!) to occasionally wear bold, red lipstick.
1. Red is the color of blood.
But not in the sense of vampires or fatal accidents. Very much so in the sense that Christ shed his own life-giving blood for me. "Christ carried our sins in his body on the cross. He did this so that we would stop living for sin and start living for what is right. And we are healed because of his wounds." (1 Peter 2:24 ICB) In other translations, "wounds" is substituted "stripes," which vividly conjures the flogging endured before the crucifixion.
For me, wearing a color that represents Christ's blood is a way to silently commemorate his sacrifice. But it's also a bold reminder of what prompted the sacrifice. My own creator found me worthy to fight for to the death and back. I am loved not only with words but with valiant action. I forget this easily; I need reminders.
Reason #1 – Red lipstick serves as a visual reminder that I am loved.
2. It's hard to hide wearing red lipstick.
It stands out. Like a city on a hill or a candle in the dark. And that's the point. As children of God following Jesus, by default, we're going to stand out. We're supposed to.
You are the light of the world. A town built on a hill cannot be hidden. Neither do people light a lamp and put it under a bowl. Instead they put it on its stand, and it gives light to everyone in the house." (Matthew 5:14-15 NIV)
Reason #2 – Red lipstick offers me a visual that helps me embrace my purpose: I'm made to shine.
3. If they're going to stare, make it worth their while!
No, really. If children of God are going to stand out anyway, then it's crucial I not only understand my purpose but keep remembering it for the sake of others. My actions are never sealed in a vacuum. Every time there's another shooting or some other horrific event, this fact is underscored yet again.
In the same way, let your light shine before others, that they may see your good deeds and glorify your Father in heaven." (Matthew 5:16 NIV) If glorifying God and enjoying Him forever makes me stand out, then may it be for good deeds that cause others to praise God, not raise their fist to him and wonder what the heck kind of God is he anyway?
I can wield the small influence given me for good in my world. Or not. Either way, people are watching. Our kids, our spouses, our friends, and who knows who else. What would the persons closest to us say about how we wield our influence?
Red lipstick is not something one wears and expects not to be noticed. For me, this serves as a reminder that everything I do affects others for better or for worse. In addition, it may very well inform their thoughts about who God is, whether they're accurate or not. My failures, my mistakes, my successes, my victories…what does it all add up to? How well will I reflect God's glory and goodness to those with whom I interact?
Reason #3 – Red lipstick reminds me that I can benefit others by reflecting God's glory.
So, I admit, it sounds tongue in cheek to declare I have three excellent and spiritual reasons for wearing red lipstick! But for me, wearing red lipstick gives pause to consider how gallantly I'm loved, that I'm made to shine, and that everything I do is an opportunity to reflect God's glory and goodness for the benefit of those around me.
What about you? What reminds you that you are gallantly loved and made to shine?