It was our housewarming gift my parents drove 2,000 miles to hand deliver: a painting of the sea at sunset by Seward Whitfield. Over seven square feet of stunning. I soaked it in with delight. A shadowbox with real oyster shells and a glass marble pearl – two actually. The artist had forgotten he'd already tucked one inside.
The three words were easy to miss. Stamped small over a dark ocean wave – a calm, coppery invitation: look up sometimes.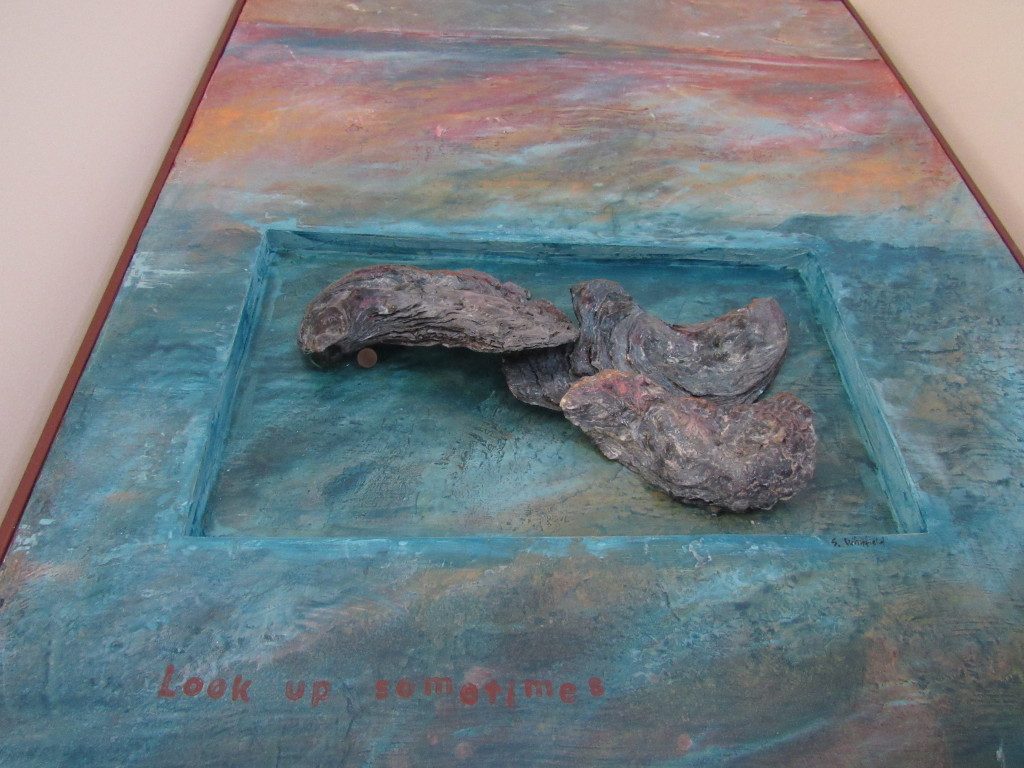 I was intrigued. And – slightly irritated. I bristled at sometimes. Why so wishy-washy? Isn't it standard operating procedure for someone who claims to follow Jesus to look up all the time? It's nice, but a little misguided, perhaps?
As much as I was drawn to the beauty of the artwork, I didn't want to romanticize a sentiment that might smack of shaky theology. Yet, I sensed a call from the deep in these words that was simple but not simplistic.
Logically and practically, you can't look up all the time. We look all sorts of directions for various reasons. Even in a spiritual sense, we look around to help others, back to learn from history, forward to heaven…
And what of the object of our vision? Is Jesus always up? One of his last acts on earth was to stoop over the grimy toes of grown men and wash away filth.
Fixing our eyes on Jesus is the phrase used in Hebrews 12:2. You don't fix something that isn't broken. My gaze needs fixing again and again. So look up sometimes could mean as often as necessary. A spiritual discipline to practice. Wash, rinse, repeat.
I dug deeper. The NIV Bible references look up or looked up (or lifting the eyes) about 50 times of which over half tie directly to God's provision. (The others, you could argue, tie in indirectly. And some were just confusing. Just sayin'.)
This recurring theme in scripture to look up sometimes – to glimpse and embrace God's provision – is the heart of my blog.
And I see it. Truth – what I know should be true of me collides with reality. And beauty – I've been washed in sunset colored waves of grace. According to Jewish time-keeping, sunset marked the beginning of a new day.
Who would have designed darkness for miracle's opening act?
When the waves of life pull me under, I can look up in faith and know He's birthing pearls. And unlike the human artist, God never forgets where He tucks them. Sometimes we just have to search a little harder or wait a little longer (maybe not until heaven) to discover them.
It's so easy to forget to look up. I mess up and look down in shame. I look around and compare; joy shrivels. I look back and get stuck in the past. I look ahead and fear looms large. How much more wholeness could be mine if I heard the gentle invitation to look up sometimes? How much faster would fear flee?
This is my journey to look up sometimes – to glimpse and embrace God's grace and hopefully nurture others in the process. Do you hear those three words whispering to you, too? How can we help each other look up this week? I'd love to hear your thoughts in the comments!
Save
Save